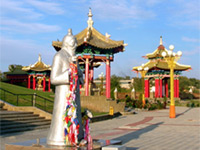 Kalmykian New Year – Zul. Celebration period: 1-15 of December.
Kalmykian New Year celebrates as one the most important events in the Buddhist history – achieving Parinirvana by the founder of the Gelug school Lama Zonkava. Kalmyks treat this person in a special way.
Supreme Lamas often say, that Kalmyks have a strong inseparable connection with Lama Zonkava, which lasts from the beginning of time. Lama Zonkava is a spiritual leader and the second Buddha for Kalmykian people. It is important to treat him with special respect this day.
The celebration program of Kalmykian New Year – Zul
On the 20th of December at 9 a.m. a solemn prayer "Thousand offerings to Lama Zonkava" is served in the central khurul "Golden Abode of Buddha Shakyamuni".
The first part of the prayer is to end at 11 a.m. The laymen are treated with Kalmykian tea, boortsog flat cakes and sweets by the monks of the central khurul.
At 13 p.m. everybody is invited to the conference hall to watch an interesting movie "Unmistaken Child" by an Israeli documentalist Nati Baratz and "the Wheel of Time" which tells us about the sacred initiation of Kalachakra in Bodh Gaya.
At 16 p.m. the prayer service is to be continued. During the Tsok ceremony the monks make a light offering to Lama Zonkava. At 17:30 the procession around the main Buddhist temple of Kalmykia takes place.
Elista, Kalmykia