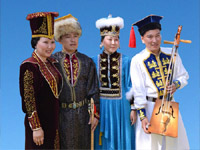 [ Ru ]
Dear Friends!
The Mongolian American Cultural Association and Kalmyk Project Inc. cordially invites you to an "Evening of Kalmyk songs" in New York City with the participation of the Smithsonian Festival Diplomats from One World Many Voices:
Dmitry Sharaev
Baator Bukhaev
Ervena Matsakova
Olga Andratova
Leading the program is Honored Worker of Culture of the Republic of Kalmykia, a journalist, Tamara Nadbitova.
An Evening of Kalmyk Song
ENSEMBLE MAGTAL
Saturday, November 23, 2013 5:30PM
119 Watts Street New York, NY 10013
Adults: $35 ~ Kids 15 and under: $15
Seating is limited
For more information, please contact:
Aleksandr Nadbitov: 732 762 1762 or Alex Katrunov: 908 494 1699
Information from Natalie Abuschinow Schneider (USA).