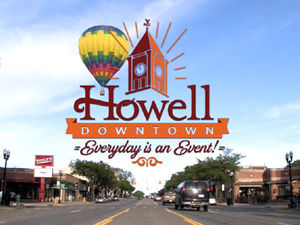 Howell
New Jersey
USA
575th Anniversary of the Kalmyk Folk Epic Dzhangar in North America Read the rest of this entry »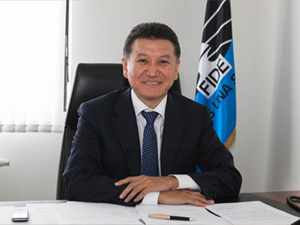 Moscow, Russia. FIDE president Kirsan Ilyumzhinov says Lavrov, Kerry will discuss his US entry visa refusal
Russian Foreign Minister Sergei Lavrov and US Secretary of State John Kerry will look into the situation over a US entry visa refusal to the Russian citizen Kirsan Ilyumzhinov, who is President of the World Chess Federation (FIDE), Read the rest of this entry »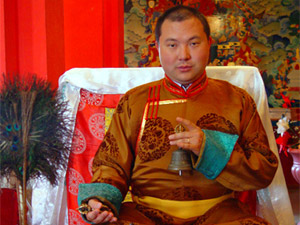 Telo Tulku Rinpoche (Dilowa Khutugtu)
Erdne Ombadykow (born October 27, 1972 in Philadelphia, Pennsylvania), also known as Telo Tulku Rinpoche, is the Tibetan Buddhist spiritual leader of the Kalmyk people. He received his formal training as a Buddhist monk in India and was recognized by the Dalai Lama as the current reincarnation of the Buddhist Mahasiddha Tilopa. Since 1992, he has served as the spiritual head of the Buddhists in Kalmykia. He divides his time between Kalmykia and his family in Erie, Colorado. Read the rest of this entry »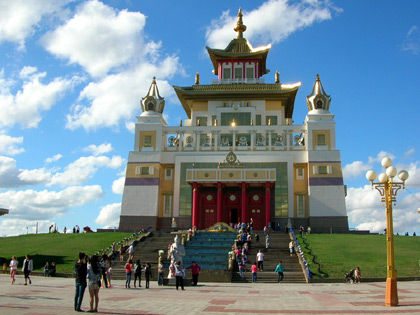 Zoya from New York about Kalmykia
The Golden Abode of Buddha Shakyamuni.
The Golden Abode of Buddha Shakyamuni can be seen from everywhere in Elista, regardless of somebody's location and distance. His Holiness the Dalai Lama IV himself has chosen and blessed the site for its erection. Its grandiose white Read the rest of this entry »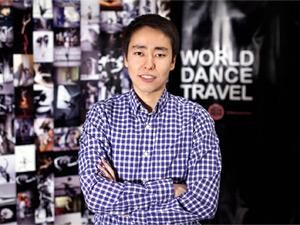 Kalmykia News: Would you like to learn to dance salsa with a passionate Spanish or with a hot Argentinian? I'm sure you would, even if you have no experience.
Two years ago I've decided to set up my own studio with dance teachers from other countries and cities. Without thinking, I went to New York to find some. I visited several dozens of studios, met many different choreographers and realized that it was the first step of creating something big.
That is how 'World Dance Travel' was created in New York. Read the rest of this entry »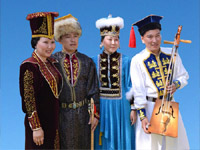 [ Ru ]
Dear Friends!
The Mongolian American Cultural Association and Kalmyk Project Inc. cordially invites you to an "Evening of Kalmyk songs" in New York City with the participation of the Smithsonian Festival Diplomats from One World Many Voices: Read the rest of this entry »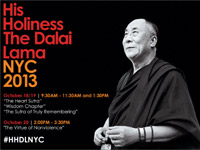 Each year, His Holiness the Dalai Lama travels throughout the world offering teachings and public talks to individuals of all faiths and backgrounds.
This year on October 18, 19 and 20, The Gere Foundation and The Tibet Center are honored to host His Holiness's return to New York City where he will bestow teachings on The Heart Sutra, The Sutra of Truly Remembering the Sublime Three Jewels, and The Wisdom Chapter of A Guide to the Bodhisattva Way of Life. Read the rest of this entry »
[ Ru ] June 28, 2013, in Manhatten non-profit organization "Kalmyk Project" held a regular meeting for members and guests. (The organization was founded at the initiative of the Kalmyks, who came from Russia, and officially incorporated in June 2013.)
This meeting was invited Telo Tulku Rinpoche, gave a lecture on "The Four Noble Truths." After the lecture, Telo Tulku Rinpoche spent on the practice of meditation. The audience consisted of people of all ages who came to the meeting Read the rest of this entry »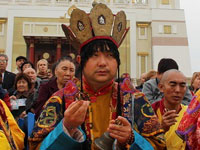 Dear friends!
It is with great happiness we would like to announce that Telo Tulku Rinpoche, Shadjin Lama of Kalmyk Republic and President of Buddhist Union of Kalmykia will be visiting Kalmyk Project this week.
We invite you to the teaching lecture by Telo Tulku Rinpoche where he will speak on "Four Noble Truths" followed Read the rest of this entry »
May 14 at the Institute of Oriental Philology and Kalmyk at the Department of Foreign Languages, intercultural communication and Regional Contest held presentations in a foreign language "The best city in the world".
Attended by students of the second – fourth-year degree "Regional", "foreign philology" (Chinese Language and Literature, Foreign Language) and the direction of "Foreign Regional." Presentations were given in English, Mongolian and Chinese. Read the rest of this entry »