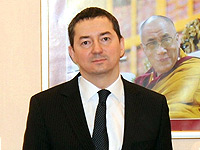 The Prime Minister of Republic of Kalmykia Igor Zotov congratulated the teachers with the professional holiday World Teachers' Day.
Dear workers and veterans of pedagogical work of Kalmykia!
I congratulate you on your professional holiday!
I wish you good health, happiness, goodness, fulfillment of all your hopes and successes in your noble work!
Igor Zotov, Prime Minister of Republic of Kalmykia