Airport "Elista"
The international airport "Elista" located near Elista-city.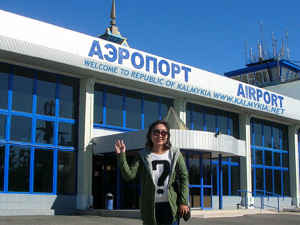 [ Ru ] The international airport of Elista is equipped with equipment radiobeacon system of landing (RMS) ILS 2700-DME/NL 2700.
ILS instrument landing system 2700 is intended for emitting an amplitude modulated Read the rest of this entry »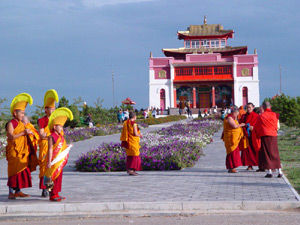 The visit of the Kundeling Rinpoche to Kalmykia. The program shows the date, time, event and venue.
2012 August 23 Thursday
15:00 Arrival in Elista. Exit to the press. Airport of the Elista city.
2012 August 24 Friday
9:15 – 10:15 Visit to buddhist monastery "Geden Sheddup Choi Korling" (Arshansky khurul) Tour in the monastery.
10:30 – 12:00 Arrive at Central buddhist temple of Kalmykia "Golden Abode of Buddha Shakyamuni". Tour in the central temple.
13:00 – 16:00 Tour of the Elista-city. Visit to City Chess, the National Museum to them. Palmov, the monument "Exodus and Return". Elista.
18:00 Kalmyk concert. Government group "KalmConcert" Elista. Read the rest of this entry »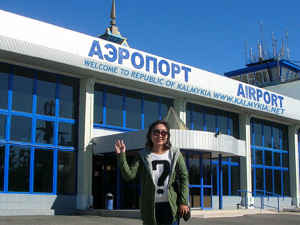 News of Kalmykia: Kalmykia Government reports that the January 23, First Deputy Prime Minister of the Republic of Kalmykia Vyacheslav Ilyumzhinov met with the head of the organization AiD-channel Odyn Tsolmon (Mongolia).
During the meeting they discussed the possibility of using the airport in the capital of the Kalmyk air bridge for Read the rest of this entry »
Businessmen from the United Arab Emirates (UAE) are ready to assist in the development of International Airport 'Elista'.
This was announced the head of the delegation of the United Arab Emirates, the head of Immigration Service of Dubai (UAE) Saeed Matar Saeed Bin Belaila at a press conference in Elista during the visit to Kalmykia. Read the rest of this entry »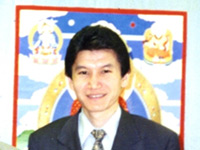 First steps from socialism to capitalism
We were on the threshold of major fundamental change. The republic was precipitously turning towards the market. I was doing my utmost to employ, and modify, every policy that could be of use to Kalmykia. I wanted people to see the light at the end of the tunnel, as it were, and to feel some relief at last. These steps took a lot of painstaking effort. Every problem led to another one. A whole knot of contradictions! I had to single out the priorities. A severe centralization of power was needed.
Read the rest of this entry »