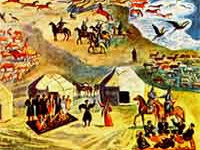 The Jangar epic was first told to the outside world by the German traveler Benjamin Bergmann at the beginning of the nineteenth century (Bergmann 1804-05).
Read the rest of this entry »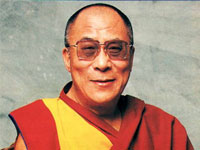 By tradition, the celebration of the birth of the leader of Buddhists the world, a mentor and teacher of the Kalmyk people of His Holiness the Dalai Lama in the country are preparing in advance. Birthday of His Holiness has long been to Kalmyk event, which they considered to be one of the most important holidays. It has become well-established tradition widely celebrate the birth of his spiritual mentor, Master of His Holiness the Dalai Lama.
On this day, early in the morning in the courtyard of the central buddhist temple "Golden Abode of Buddha Shakyamuni," the monks held a ceremony of "Sangso." In this ritual was attended by the laity, the vows, which they keep clean, consolidated, and those who have been violated by the rite "Sangso" restored. Completed the rite ritual offerings to deities. Read the rest of this entry »
King of Kalmykia
Tom Parfitt
The Guardian, Thursday 21 September 2006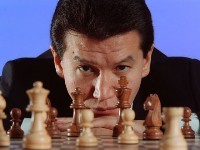 Life is not all plain sailing for Kirsan Ilyumzhinov, the flamboyant leader of the Russian republic of Kalmykia. For a start, his Rolls-Royce Silver Spirit II needs constant repairs thanks to the rutted roads of his impoverished fiefdom. And then there is the danger of alien abduction. He has already been pressganged into one trip on a UFO – in Read the rest of this entry »