King of Kalmykia
Tom Parfitt
The Guardian, Thursday 21 September 2006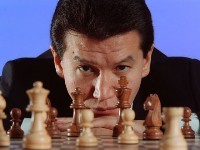 Life is not all plain sailing for Kirsan Ilyumzhinov, the flamboyant leader of the Russian republic of Kalmykia. For a start, his Rolls-Royce Silver Spirit II needs constant repairs thanks to the rutted roads of his impoverished fiefdom. And then there is the danger of alien abduction. He has already been pressganged into one trip on a UFO – in 1997 when he was on a business trip to Moscow. "They took me from my apartment and we went aboard their ship," he says, sitting in his office in Kalmykia's capital, Elista. "We flew to some kind of star. They put a spacesuit on me, told me many things and showed me around. They wanted to demonstrate that UFOs do exist."
And yet Ilyumzhinov could not be happier. On Saturday he will satisfy two of his great passions – self-promotion and chess – when his republic hosts a tournament to decide the best chess player on earth. The contest between "classical chess" champion Vladimir Kramnik and World Chess Federation (Fide) No 1 Veselin Topalov will produce an undisputed world champion and end a 13-year schism in the sport.
Even at the end of an 18-hour working day, the 44-year-old Ilyumzhinov is brimming with enthusiasm for the contest. "This match will unify the chess world, once and for all," he beams, from his seat beneath a large portrait of Vladimir Lenin. "At last we will have a single champion."
Since Ilyumzhinov was elected president in 1993, and head of Fide in 1995, he has pinballed all over the world proselytising about his favourite game and his beloved homeland. "Nobody knew about this place before I became president," says Ilyumzhinov. "Through Kirsan, people found out about Kalmykia. All the money that comes to Kalmykia to build roads, develop the gas network – all that was brought here by me."
Ilyumzhinov, meanwhile, has at least three Rolls-Royces and a Hummer, in which he careers around Elista, a small city of crumbling low-rise apartment blocks marooned on the grasslands. He once campaigned in a 9m-long Lincoln saloon under the slogan "a wealthy president is a safeguard against corruption".
Chess City – the $50m complex that he built on the edge of his sleepy capital – turned out to be a white elephant of Millennium Dome proportions: its foundations are subsiding and few of its luxury homes are inhabited.
Ilyumzhinov's re-election as head of Fide in June followed a harshly fought campaign that saw opponents accuse him of dragging chess into disrepute. Nigel Short, the British grandmaster who was in the camp that opposed Ilyumzhinov, warned before the vote that "either Fide stays a cowboy organisation mired in sleaze and shunned by corporate sponsors, or it becomes a modern, professional sporting body". Yet Ilyumzhinov's survival suggests that not everyone finds his notoriety off-putting.
It's not just the claims about aliens that grab the headlines. Ilyumzhinov came to power promising every shepherd in Kalmykia a new mobile phone, and last year offered to pay $1m to move Lenin's mausoleum – and his embalmed body – from Moscow to Elista. And he says that his victories, in both chess and politics, were foretold by an elderly Bulgarian astrologer called Vanga.
Kalmykia is the only Buddhist region in Europe, populated by 320,000 people who are mostly descendants of the Golden Horde that never returned home after the Mongol Khans retreated from Russia. On becoming its leader, Ilyumzhinov – who was the republic's chess champion at 15 – abolished its parliament and installed an authoritarian regime, promising to introduce "economic dictatorship". Chess was made a compulsory subject in schools; the region now has numerous champions.
He was re-elected as leader of Kalmykia in 1995 and 2002, and re-installed by Russian president Vladimir Putin late last year after direct elections of regional leaders were abolished.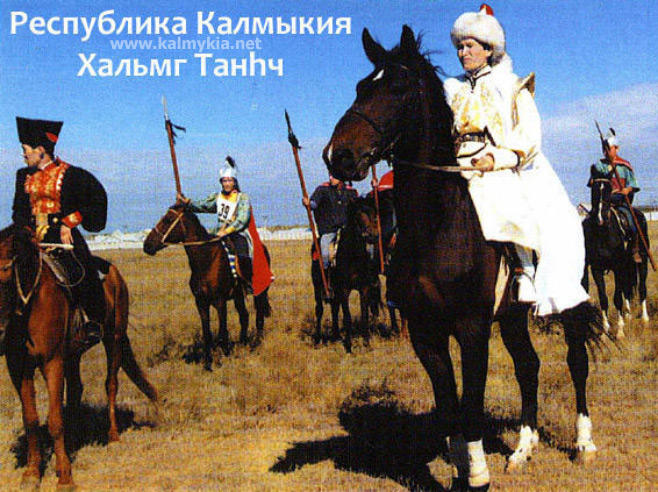 His globetrotting has brought him an eclectic mix of friends. Gadafy is a chum and Saddam Hussein, with whom he enjoyed numerous meetings before the US-led invasion of Iraq, struck him as "a normal person, a politician who cheered for his republic and wanted to do good things for people". At his office in central Elista, there are portraits of other heroes besides Lenin ("His grandmother was a Kalmyk, and he called us brothers"). Genghis Khan rises above an eagle spreading its wings, and the Dalai Lama, who visited Elista in 2004, looks on beatifically from a colour photograph. "He is my spiritual guide," says Ilyumzhinov.
Yet chess is his greatest devotion. The game, he says, "has helped raise the image of Kalmykia. This is a small republic. In Soviet times nothing was built here, no big factories. Now there is a market, investment – we need to attract attention to ourselves."
Last Saturday the president personally escorted the chess players Topalov and Kramnik from Moscow to Elista in a chartered jet. On arrival, the pair were draped with silk scarves and immediately whisked off for a four-hour tour of Elista's glories, including a visit to a supermarket. The highlight, however, was a dash around the new $25m Golden Temple, a gilt-edged Buddhist pagoda which at 64 metres (210ft) high is the tallest in Europe.
The tour ended with journalists stampeding around Topalov's apartment at Chess City, where Ilyumzhinov proudly showed off a mass of plastic-wrapped razors and bars of soap in the grandmaster's bathroom. "Good conditions, yes?" he said, grinning.
Ordinary Kalmykians remain split over their president's bona fides. Predictions that oil deposits could be found on the shelf of Kalmykia's Caspian Sea coast have dangled the carrot of future prosperity. "He's one of a kind," says Dzhangar Kukanov, 32, an insurance salesman. "Before Kirsan nobody knew about us. Now they respect us and pay attention." Others, like retired taxi driver Grigory Popravka, 69, are less impressed. "Us pensioners are living on the breadline, while he's building useless great things like that," he said, pointing at the towering Golden Temple. "And I don't believe it's all done with his own cash."
Ilyumzhinov is rarely troubled by such mundane complaints. His mind is focused on higher matters. In parallel with organising the chess match he was entertaining a delegation from China as Elista celebrated its 141st birthday.
"Maybe in another 141 years there will be an intergalactic meeting here in Kalmykia," he told his visitors. "And those travellers will look back at all our efforts to improve life, and feel proud".
Guardian.co.uk