Posts Tagged 'Kalmyk dishes'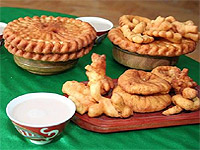 Kalmyk kitchen: Kalmyk bortsoki
The recipe of bortsoki of the Republic of Kalmykia (Elista) – how to make the dough for bortsoki.
1 kilogram of bortsoki:
700g of flour
1 egg
300g of milk or yogurt
100g margarine
30g sugar
1 teaspoon soda
2 teaspoons salt Read the rest of this entry »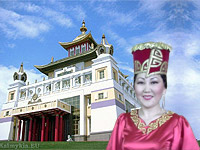 Today a group of the USA tourists came to Elista, the capital of Kalmykia. The tourists saw the places of interest in Elista and the history of the Kalmyk people.
Kalmyk guides told a lot of interesting about Buddhism, buddhistic monks an Buddha in English.
The USA tourisct decided Read the rest of this entry »