Posts Tagged 'negotiations'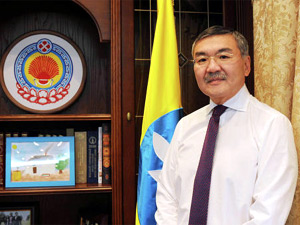 Russia. Russian Investment Forum in Sochi
Negotiations Italian Republic and Kalmykia
In Russia, the Head of Kalmykia Alexey Orlov met with the Honorary Consul General of the Italian Republic in the SFD and the NCFD Pierpaolo Lodigiani. Read the rest of this entry »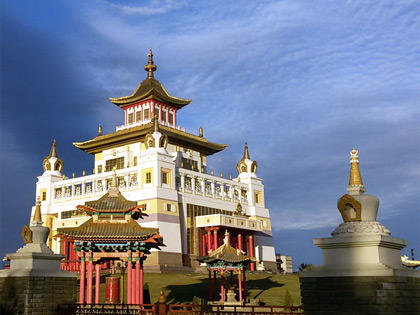 November 18 in Elista, come holy relics from Sri Lanka. This spring, during a visit to Sri Lanka, the FIDE President Kirsan Ilyumzhinov, he met with President of the Democratic Socialist Republic of Sri Lanka, Mr. Mahinda Rajapaksa.
During a friendly conversation the sides exchanged views on the development of economic and cultural ties, the implementation of bilateral exchanges, including through Buddhist organizations.
Also, Kirsan Ilyumzhinov in the temple of Sri Sambodhi Varayya took part in the celebration of Vesak Buddhist ceremony Kalapayya. At the ceremony, he awarded the honorary Buddhist title of "Mahanayake" for his services in the spread of Buddhism throughout the world. Read the rest of this entry »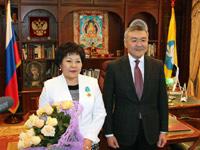 Today, October 12, 2011, the head of the Republic of Kalmykia Alexei Orlov, met with President of Slovenian corporations RIKO GROUP Joza Dragan and the Moscow representative of the corporation Imad Khoury.
It was about building in the Republic of Kalmykia processing plants meat and grain. After a preliminary agreement in Moscow on the Slovenian side arrived in Kalmykia for further discussion of projects. In addition, prospective investors are prepared to work in the Republic of Kalmykia of the industrial production of starch. Read the rest of this entry »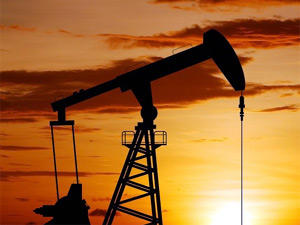 A working meeting was held between Kirsan Ilyumzhinov, Republic of Kalmykia's Head, and CPC-R General Director Alexander Tarakanov today in Moscow in the Permanent Mission of the Republic of Kalmykia to the Russia President. Vladimir Babichev,a Member of the Russia Council of Federation, also participated in the meeting.
Read the rest of this entry »