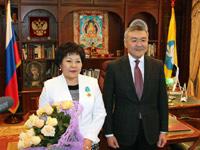 Today, October 12, 2011, the head of the Republic of Kalmykia Alexei Orlov, met with President of Slovenian corporations RIKO GROUP Joza Dragan and the Moscow representative of the corporation Imad Khoury.
It was about building in the Republic of Kalmykia processing plants meat and grain. After a preliminary agreement in Moscow on the Slovenian side arrived in Kalmykia for further discussion of projects. In addition, prospective investors are prepared to work in the Republic of Kalmykia of the industrial production of starch.
Representatives of corporations have offered to do conceptual design of future meat processing plant. It is planned to produce animal feed, for which the region has all the conditions, says Dragan Jozo. To implement the above will need to build two plants in the country closed. In the case of a positive outcome of the negotiations after the corporation estimates RIKO GROUP is ready to Kalmykia credit on preferential terms under the state guarantees.
In the future, RIKO GROUP can develop in the Republic of Kalmykia, processing leather, manufacture of bone meal. According Joza Dragan, the company has vast experience in these areas, including in Russia, Belarus and Kazakhstan.
At the talks also attended by First Deputy Prime Minister of the Republic of Kalmykia – Minister of Agriculture of Republic of Kalmykia Peter Lantsanov and Minister of Economy and Trade of the Republic of Kalmykia, Yuri Sidorenko.
Elista, Kalmykia