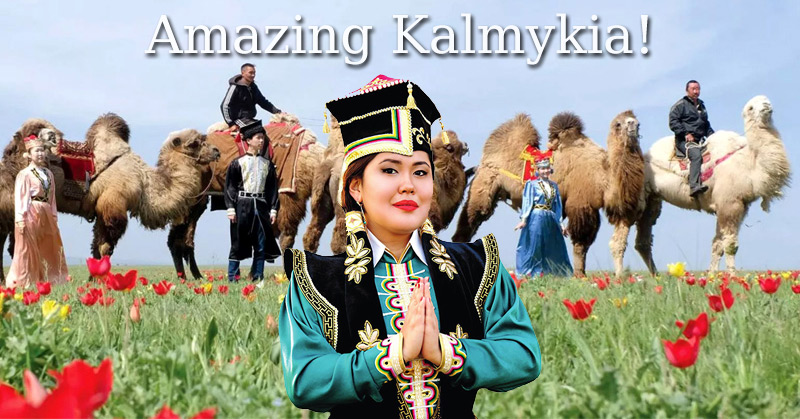 A briefing was held in Elista, where participants talked about the Tulip Festival in the Yashkul district of blessed Kalmykia. The speakers were the organizers Bata Erdni-Garyaev, Galina Shorvaeva, Vitaly Buvaev, Nina Adzhadykova, Anastasia Solyanaya and Bakur Zurgadaev. Read the rest of this entry »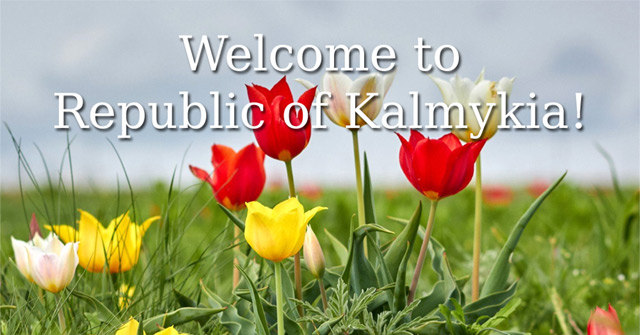 Vacation in Europe: The Tulip Festival is celebrated for a whole month
Celebration dates: April 2 – May 2
Territory of Great Nomads
On April 16 Tulip Festival will take place in Priyutnensky district of Kalmykia, reported Ministry of Culture and Tourism of the Republic of Kalmykia.
Other events, places and locations: Read the rest of this entry »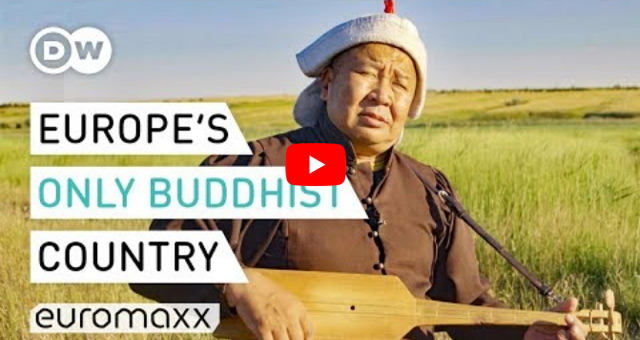 New video
about Kalmykia, buddhism and steppe.
Deutsche Welle: Europe's Only Buddhist Country | Welcome to Kalmykia | Europe to The Maxx
Video duration 16m 14s
Travel to Russia and Kalmykia
Read the rest of this entry »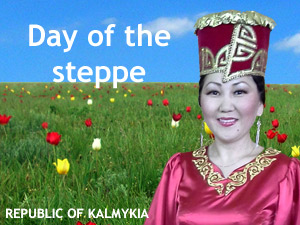 New holiday "Day of the steppe"
In Kalmykia was established holiday "Day of the steppe".
From 2015 on the third Sunday of April in the Kalmykia Republic will be celebrated holiday "Day of the steppe". Read the rest of this entry »
International Festival of throat singing and ethnic music 'Breath of the steppe' will be held in Elista!
Among the guests of the festival will be throat singers from Mongolia and Altai Republic, those are Davaasuren Damjin and Mergen Teldenov. They will surely show the charm and beauty of Hoomei.
Also there will be another one interesting performer from Xinjiang province of China. His name is Bayrta Nimgrin, and he is going to sing the oirad mongolian long songs, which Read the rest of this entry »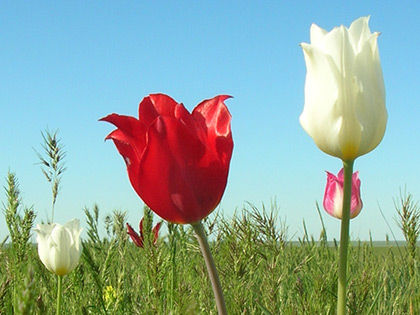 Nature [ De | Ru | Fr | It | Es ]
The charm if this nature is elusive and irresistible, though one doesn't call it the land of plenty.
Intense heat and long summer's lack of water, cold winters with little amount of snow, shrill winds, snow and dusty storms… This is a steppe.
But enchanting starry nights filled with chirr of cicadas, long expected coolness and fragrance of the motley grass, rejoicing of larks at dawn, majestic conciliation of sunsets, air of entrancing purity… This is also a steppe. Read the rest of this entry »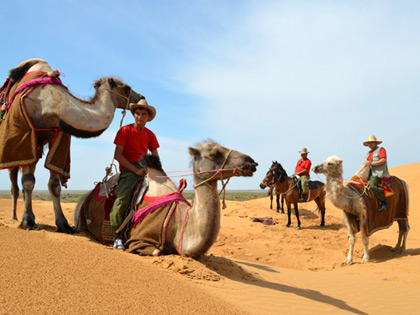 Adventures in Kalmykia!
One day with camels!
Every Sunday from 9.00 to 18.00!
Welcome to Kalmykia! Read the rest of this entry »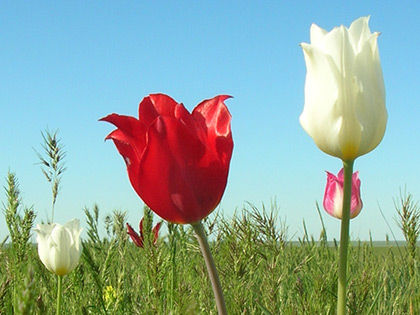 Many tourists have asked me this question: When time of flowering tulips in Kalmykia? Therefore, I decided to write for all at once.
[ Fr | Es | Ru | It ]
Flowering tulips in Kalmykia starts around at the end of April – early May. Therefore, usually residents of Republic of Kalmykia and the tourists travel to the spring blooming steppe to admire the blooming tulips on May holidays (from 1 to 10 May).
The time of flowering of wild tulips in Kalmykia may change depending on how early or late spring begin. If the spring is Read the rest of this entry »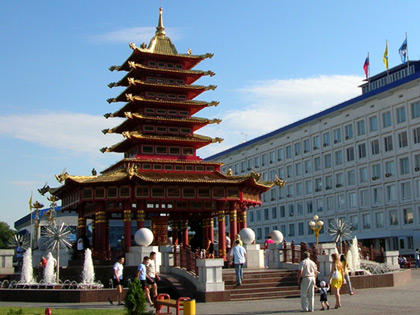 The trip was very exciting and interesting. I never thought that such an unusual city as Elista is so close to Volgograd. Elista is different from all the cities in the country by its eastern atmosphere. As if you find yourself in the eastern dragon tale with pagodas …
In general, Kalmykia, I think, a real paradise for tourists. There are many opportunities for almost any type of vacation.
We were particularly impressed by their originality capital of Kalmykia – Elista. Unlike the cities of Central Russia, Elista is fully saturated with religious culture. Wherever I look – everywhere there are elements of Buddhism. Read the rest of this entry »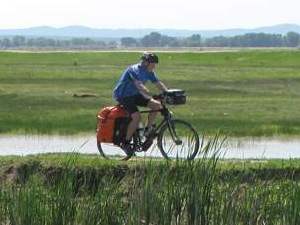 Stephan Werner. Story of a tourist from Germany
2012-05-03 > 142km. 412hm / sunny 27°C – 32°C / Ø18km/h / pedaling time 8:00hrs / elevation 133m, today passed 1000km mark since Simferopol (day 9) For some unknown reason, this morning I received a lot of gifts, whenever I stopped to ask for directions or just looking at things, mostly women gave me apples or sweets and wished me a safe trip. Russians are truly very friendly people.
Read the rest of this entry »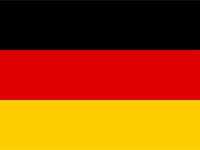 From September 27 to October 2, will be held German Week in Kalmykia.
German Week in Kalmykia is dedicated to the 140th anniversary of the first settlement of Germans in our steppe republic.
Program of the German Week
September 27
14.00 Olympics of German.
Country Studies Seminar (Germany) through the German idioms (on the Internet).
15:00 Opening of the exhibition "Discover Germany" and new educational materials Eisfeld, Nordost-Institut, BRD Read the rest of this entry »
Taking the decision to run for president of Kalmykia, I realized clearly that people were fed up with continuous elections, political intrigues and playing at democracy. What Kalmykia needed was a dramatic change of structure and attitude which would take the needs of the people into consideration, and would awaken and instill in each citizen the belief that he could, and must, earn a real wage for real work, rather than the miserable pennies which he was paid now. The republic must quickly embrace a market economy before it was too late.
I was fully aware that if I were elected president my popularity would swiftly slide downhill. Read the rest of this entry »