Posts Tagged 'Tibet Center'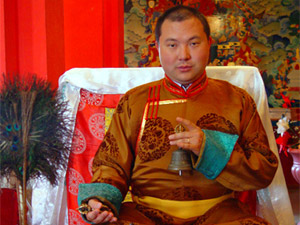 Telo Tulku Rinpoche, an influential Tibetan Buddhist leader of the Kalmyk people, has been appointed as the new Honorary Representative of His Holiness the Dalai Lama at the Tibet Culture & Information Centre (Office of Tibet) in Moscow, Russia.
He will take over as the new Representative once the paper works of the outgoing Representative Dr. Ngawang Rabgyal is complete.
Telo Rinpoche is the spiritual head of the Tibetan Buddhist tradition in Kalmykia. Born to a Kalmyk Mongolian family in the USA, he studied at a Tibetan Buddhist monastery in South India at the age of 7. Read the rest of this entry »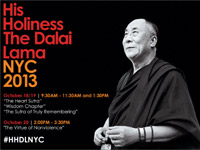 Each year, His Holiness the Dalai Lama travels throughout the world offering teachings and public talks to individuals of all faiths and backgrounds.
This year on October 18, 19 and 20, The Gere Foundation and The Tibet Center are honored to host His Holiness's return to New York City where he will bestow teachings on The Heart Sutra, The Sutra of Truly Remembering the Sublime Three Jewels, and The Wisdom Chapter of A Guide to the Bodhisattva Way of Life. Read the rest of this entry »