Posts Tagged 'Tibetan Community'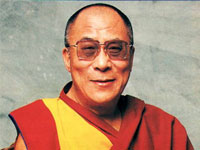 Prague, Czech Republic, 1 December 2008 – His Holiness the Dalai Lama arrived in Prague, the capital of Czech Republic on November 29 morning from Frankfurt by a private plane. His Holiness is in Prague at the invitation of former President Vaclav Havel and Forum2000 from 29 November to 1 December 2008.
His Holiness was received at the airport by the Indian Embassy's First Secretary and Mr. Olda Cerny Executive Director of Forum2000. On arrival at the hotel, His Holiness was welcomed by the members of the Tibetan Community.
While speaking to the Czech TV, His Holiness spoke about his long association with Czech Republic and especially with President Havel. His Holiness also spoke about the present dialogue with China. This is His Holiness' seventh visit to Czech Republic. Read the rest of this entry »