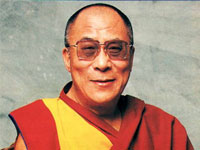 Prague, Czech Republic, 1 December 2008 – His Holiness the Dalai Lama arrived in Prague, the capital of Czech Republic on November 29 morning from Frankfurt by a private plane. His Holiness is in Prague at the invitation of former President Vaclav Havel and Forum2000 from 29 November to 1 December 2008.
His Holiness was received at the airport by the Indian Embassy's First Secretary and Mr. Olda Cerny Executive Director of Forum2000. On arrival at the hotel, His Holiness was welcomed by the members of the Tibetan Community.
While speaking to the Czech TV, His Holiness spoke about his long association with Czech Republic and especially with President Havel. His Holiness also spoke about the present dialogue with China. This is His Holiness' seventh visit to Czech Republic.
His Holiness the Dalai Lama met yesterday with the Czech Prime Minister Mirek Topolnek at the latter's official residence. The two leaders met for over one hour during which His Holiness the Dalai Lama briefed Prime Minister Topolnek of the present situation in Tibet. Welcoming His Holiness to his country, Prime Minister Topolnek expressed his concerns about the Tibetan issue.
Earlier in the afternoon, His Holiness the Dalai Lama spoke to about 3000 strong audience on "Compassion: The Basis for Happiness."
His Holiness said the ability of compassion and open attitude towards others is an important path to attaining internal peace. His Holiness also said that empathy and compassion also play a role in solving global problems, including climate change.
Italian fencer Margherita Granbassi, who won a medal in Beijing Olympic, presented her fencing mask to His Holiness. She had earlier said,"I hope the same mask that protected me in Beijing will help him protect his people".
His Holiness also met with Tibetans who have traveled from Hungary and Austria to seek his blessings.
The members of the Tibet Support Groups also met His Holiness who told them that Tibet was going through a difficult time and that it needed their help.
Prague, Czech Republic
www.dalailama.com