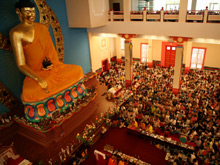 March 19 at the central khurul Kalmykia's held a festive prayer service, as this day is celebrated by Buddhists as a special date. On this day, Buddha Shakyamuni brilliantly concluded the discussion with representatives of the false teachings and to demonstrate their wonderful hit.
– Our teacher, Shakyamuni Buddha – one of the thousand Buddhas of this eon. (Aeon – a period that lasts for many years). On our continent it – the fourth. After many thousands of years expected arrival on our land fifth Buddha Maitreya. Buddha is always seeking for the good of beings wandering in the cycle of life. Every hour and every minute they create unlimited blessing for all life on Earth – says Ph.D., professor of venerable Lobsang Gyatso.
– In his life can be identified 12 major events. From the pure land Tushita – Land of Joy, he looked to the ground and filled with compassion for all living beings. Thus began the era of the Buddha.
One of the major life events Triumphant have this year to 19 March, Tsagaan Sar. On this day, Buddha concluded a dispute with the six teachers of other religions brilliant victory. The debate lasted 15 days and each day the Buddha showed one of the wonders.
In the biography of Buddha, compiled Taranatha, said that the dispute "has gathered a myriad of people wanting to see the great wonders, as well as countless gods, nagas, asuras, were Garuda, pischachi, kusmandaki, kinara, bhutas.
Within 15 days of Buddha is their ability, making miracles in proof of the truth preached by their faith. 91,000 followers of false teachers have gone over to the Buddha and his teachings were.
In the central khurul Kalmykia "Golden Abode of Buddha Shakyamuni" is preparing for a large prayer meeting, which will last for three days from March 17 to 19. And within three days lharamba venerable Geshe Tenzin Dugda will give Jatakas – biography of the Buddha. Three spring days – an amazing time of prayer and good wishes
March 19 at the dawn at 5 am on any one of wishing to be in the central khurul "Golden Abode of Buddha Shakyamuni" to take a one-day vow of Mahayana. It also will confer Doctor of Philosophy, Professor Venerable Tenzin Dugda. Holiday service will begin at 9 o'clock in the afternoon a big celebratory service will continue.
During all three days with a lunch break each of the laity could participate in church services, which give them an incredible amount of merit.
Nina Shaldunova
Elista, Kalmykia
khurul.ru