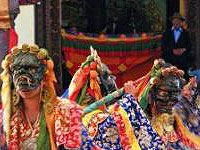 Tantric dances Tsam [ Ru | Es ]
From August 23 to begin in Elista tantric dances Tsam, reported by the head of the Department of Religious of Tourism Development Fund of Kalmykia.
According to preliminary information, the tantric dances Tsam are held daily from August 23 to September 7.
Venue:
Elista, avenue named Ostap Bender, 1.
Elista, Republic of Kalmykia