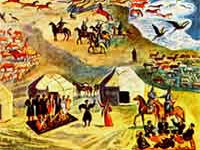 The Jangar epic was first told to the outside world by the German traveler Benjamin Bergmann at the beginning of the nineteenth century (Bergmann 1804-05).
Open and read "Jangar" now!
The Jangar extols in song an ideal country-Bumba,a land of happiness and abundance.
"It was at the beginning of times
In the ancient golden age
Of Jangar's dawn beginning to break,
Of Bumba's flowering starting to be conceived,
Of the Burkhan's holy era"
From the book "Folk and Epic". By Elza Bair Guchinova.
Kalmykia is the second birthplace of fairy tales after India
Eelyan Ovlaa (1857-1920) is the single most famous jangarchi.