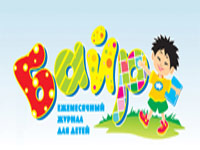 Volunteer is planning to do a website for kids. This idea came on the kalmyk internet-forum in March 2009. One kalmyk user was created theme about magazine.
Soon will be opening the Internet site of the kalmyk children's magazine 'Bair' ('Joy').
Editors from magazine approved the creation of website for children's magazine.
This bright event is timed to the 400th anniversary of the Voluntary Entering of Kalmyk people in Russia.
Moscow – Elista, Kalmykia