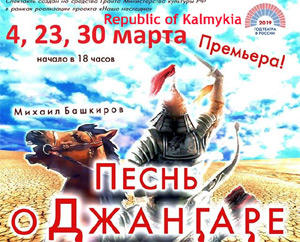 Great Oirat-Kalmyk epic! [ Ru ]
New performances about defenders in Elista. On March 4, 23 and 30 in Elista will be held a performance "A Song about Djangar and its warriors …"
Based on the Great Oirat-Kalmyk epic Read the rest of this entry »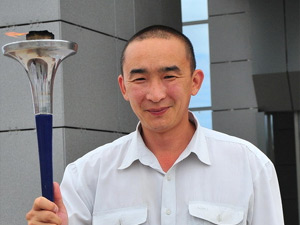 November 12-16
Lectures in Russia about Dzungaria and Oirats
Lectures of the famous historian and writer, candidate of historical sciences Arltan Baskhaev. Read the rest of this entry »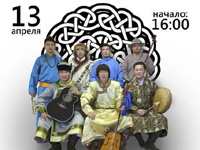 The voice of Oirats! [ Ru ]
Concert of representatives of Western Mongolia and Xinjiang held in Elista, the capital of the Republic of Kalmykia!
April, 13.
Guests of the evening: Kalmyk pop stars!
Welcome to blessed Elista!
Read the rest of this entry »
The Kalmyk State Dance Theatre "OIRATY"
The Kalmyk State Dance Theatre "OIRATY" was established in January 1990 as a professional dance ensemble by an idea of Peter Nadbitov, the well-known Ballet-Master, Merited Art Worker of Russia, Member of the CID UNESCO.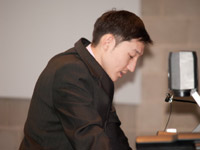 Chagdir Sandzhiev. The current state of Buddhism in Kalmykia
It's been more than 20 years since the collapse of the USSR and the beginning of the period of genuine religious freedom in Russia. Great changes happened both in the country as well as in the minds and hearts of the citizens during this period. Read the rest of this entry »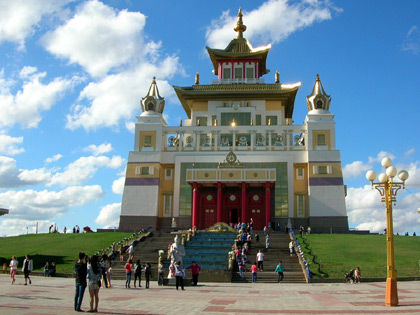 By Anna Nemtsova, Special to RussiaNow. November 8, 2011
One third of the population of Kalmykia was deported during Stalin's terror. As the region struggles, it returns to its roots for answers.
The first Ceremony of Light offering to Buddha was held last month in Elista, the capital of Kalmykia.
"Let all our wishes come true! Let all living creatures be free of suffering, of danger, of diseases and sadness! Let peace and happiness govern on Earth!" Read the rest of this entry »
Celebrating a birthday, enlightenment and passing away of the Buddha Sakyamuni parinirvana in Elista, resulted in an unforgettable celebration in honor of the three signs of Teachers. His magnificently celebrated in many Buddhist countries. Since 2000, this holiday is officially included in the calendar of UNESCO.
Congratulated the residents and visitors with a bright celebration of Kalmykia Republic of Kalmykia President Kirsan Ilyumzhinov. Key in his speech became a phrase: "We pray that His Holiness the XIV Dalai Lama arrived in Elista in September after the Beijing Olympics." Among the VIP-persons present at the ritual service, was a famous traveler Fyodor Konyukhov. Making the circuit around statues of the Buddha, he made three bows are Buddhist. Now he will have a hard task – to walk in the footsteps Oirats from China to Russia. Read the rest of this entry »
The Kalmyks originate from Central Asia. Their ancestors — the Oirats — belonged to the western branch of Mongolian peoples and represented a very powerful alliance of tribes which were formations of the early feudal state under which dominion the whole Mongolia was in the first half of XV сentury. Consequently interregional conflicts and a number of military bad lucks caused the reduction of Oirat Empire.
Read the rest of this entry »