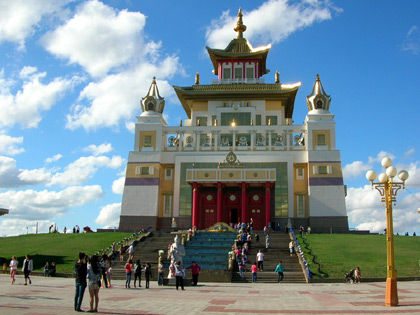 By Anna Nemtsova, Special to RussiaNow. November 8, 2011
One third of the population of Kalmykia was deported during Stalin's terror. As the region struggles, it returns to its roots for answers.
The first Ceremony of Light offering to Buddha was held last month in Elista, the capital of Kalmykia.
"Let all our wishes come true! Let all living creatures be free of suffering, of danger, of diseases and sadness! Let peace and happiness govern on Earth!"
More than 2,000 Buddhists chanted the mantra, kneeling on mats before the Golden Abode of Buddha temple in Elista, the capital of the republic of Kalmykia, one of three traditional Buddhist regions in Russia. They repeated words of prayer after the Kalmyk Buddhist leader, Telo Tulku Rinpoche. Finally, the square grew quiet as the group went into deep meditation.
As night fell, thousands of candles were lit. Buddhist monks visiting from Tibet, Thailand, and the United States, as well as Russian Buddhist regions of Buriatya and Tuva, blessed those who gathered from all over Kalmykia and the neighboring southern regions of Russia. They sent candles flying skyward in hot air balloons, illuminating the dark night sky.
The ceremony, an offering of light to Buddha, was introduced to Russian Buddhists for the first time as a symbolic event celebrating the beginning of the international forum, "Buddhism: Philosophy of Non-Violence and Compassion," held in Elista last month.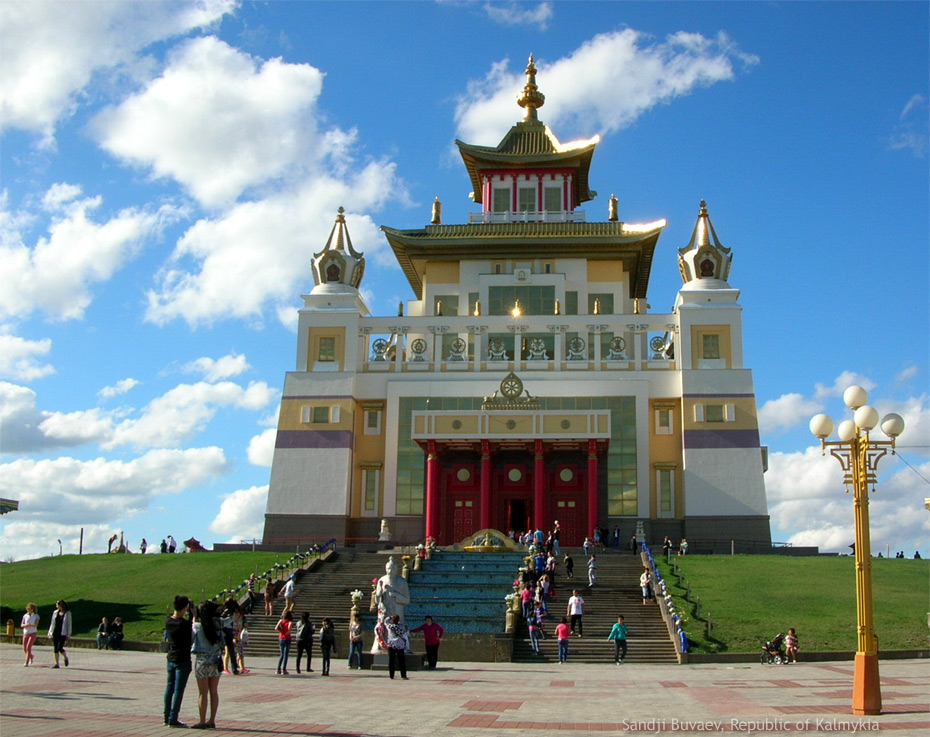 Despite objections from China, a group of 30 Tibetan monks from the Gyudmed Monastery, assigned by the Dalai Lama, arrived to bless the republic's main temple and 17 sculptures of Tibetan Buddhist scientists inside.
At the ceremony, the candle kites formed a path of light in the pitch-black sky. "That is our white road", somebody whispered in the crowd.
"Have a white road" is the most sincere greeting people traditionally give each other in Kalmykia.
It's a fittingly modest wish for people in this poor region, stuck in sandy steppe as flat as a pancake. The republic of Kalmykia, with its population of more than 300,000 people, chose to revive the traditional philosophy and culture of Tibetan Buddhism. The religion was adopted by their predecessors, the Oirat tribes in Mongolia, in the 13th century and imported to the Russian empire when Oirats migrated there in 1609.
It was violently destroyed, together with all Buddhist prayer houses, temples and holy relics, during Stalin's repressions of the 1930s. The entire indigenous Kalmyk population spent 17 years in exile in Siberia.
Today, Kalmykia is the second poorest region in Russia, after Ingushetia. Visiting Kalmykia last March, President Dmitry Medvedev called the situation "difficult," as the 15 percent unemployment rate in Kalmykia was twice as high as the national average.
Buddhism teaches tolerance and loving-kindness, so Kalmyks have learned to cope with their harsh realities. "We have seen it much worse," Yevdokiya Kutsayeva, 84, said. She had tears in her eyes as she recalled Stalin's deportations. "One October night in 1943, they packed the entire population of the republic into dirty train wagons and sent us to Siberia. Thousands died on the way. I remember the stacks of dead bodies along the platforms," she recalled.
Until the late 1980s, it was dangerous for Kutsayeva and her family to light a candle for Buddha, much less send one into the sky in a hot air balloon. To Kutsayeva's joy, Kalmykia has built 55 new Buddhist prayer homes and 30 temples in the past decade.
"That is all we have left to make people happy and peaceful today", Alexander Nemeyev, a local businessman, said. Nemeyev pointed at the golden statue of Buddha in the temple that he had built for his village, Ulduchiny, two years ago. He spent about $41,000, or 1,230 rubles. On a recent weekend, about 100 Buddhists came to pray together with Tibetan monks visiting the republic.
Not everybody in the village participated in the religious ceremony. "The temple is not giving me food for my two children", said Khondor, a 47-year-old widower and an electrician who did not want to give his last name, showing his modest two-room house that he shares with his two teenage children. Khondor said he was proud to be one of two people who had full-time jobs in Ulduchiny. "Kalmyk people historically tolerated troubles," he said, adding what could be said about a good number of different people in Russia, "to cope with difficulties is our tradition".
Khondor's children, Aveyash, 14, and Nagaila, 13, said their dream was to leave Kalmykia, perhaps by going to study in Moscow or St. Petersburg. Their father did not mind this goal, as he saw no future for them in the republic, he said.
Kalmyk Buddhist leaders say that today, their efforts are not about just rebuilding the temples, something supported by the government, but about the revival of Kalmyk Buddhist mentality and culture, along with basic secular human ethics like compassion, love, kindness and forgiveness.
Exhausted after two decades of economic and social crises, Kalmyks often come to the republic's main temple, or Central Hurul, saying, "my soul is damaged, please help me," the Buddhist leader, Telo Tulku Rinpoche, said. "In a way we are a spiritual, psychological center giving people hope, moral support and spiritual guidance."
According to Yulia Zhironkina, director of the Moscow-based Save Tibet Foundation, Telo Tulku Rinpoche has become Russia's major spiritual leader for Buddhists. "He goes to India to consult with the Dalai Lama about most of his important decisions for Kalmykia education and cultural programs," Zhironkina said. Kalmykia is one of the 19 Russian regions introducing experimental programs on basics ethics for the 4th and 5th grades at Russian state schools. "The Dalai Lama consulted Telo Tulku Rinpoche about the concept for the school history and basics of Buddhism in Kalmykia," Zhironkina said.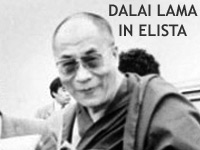 But there are areas where neither the Dalai Lama nor his followers have power to help. On one of his visits in Kalmykia, Barry Kerzin, a Buddhist doctor from Philadelphia, said he was shocked by the problems local doctors faced. "The entire hospital, including the surgery rooms, had no running water that day," he said. This year, local activists criticized the authorities for not finishing the reconstruction of the republic's only children's hospital. This month, about 300 successful Kalmyks, calling themselves "a partisan Internet movement," wrote a letter to President Barack Obama asking him to restore the hospital, currently in disrepair. The letter was also designed to shame the Russian federal government and at the same time call attention to their plight.
Doctors at Kalmykia's only children's hospital had trouble listing the most needed medicine and equipment. "We need everything," Tomara Nemchirova, the administrator of the hospital said. "We have kids on a waiting list until next spring."
Kalmykia has not seen any bounty, nor promises of any infrastructure from deals that Royal Dutch Shell signed this year for the exploration of oil fields on the steppe. Major discoveries have been made in nearby Kazakhstan, also on the Caspian Sea.
The former Kalmyk president, Kirsan Ilyumzhinov, was on hand for the recent ceremonies. He stepped down in 2010. The controversial former leader said that the teachings of Buddhism he supported during his rule saved Kalmykia from getting involved in the terrorist wars in the neighboring North Caucasus republics.
"The peaceful and kind philosophy of Buddhism is a solution for Kalmyk people in the chaos and hard reality they live in", Zhironkina said.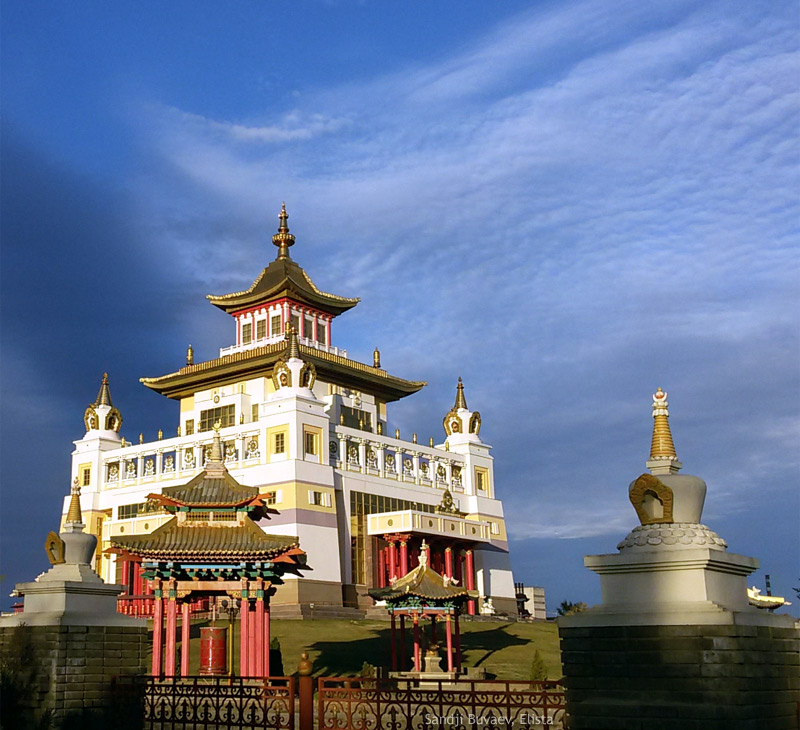 Source: http://russianow.washingtonpost.com/2011/11/buddhist-revival-in-kalmykia.php