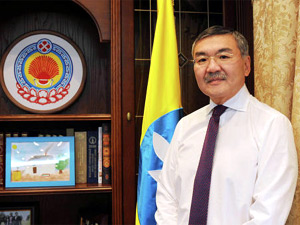 Aleksey Orlov (web-site)
Aleksey Maratovich Orlov is a Kalmyk politician who is the current Head of the Republic of Kalmykia which is part of the Russian Federation.
Aleksey Orlov was born on the 9th of October 1961 in Elista, the capital of the Republic of Kalmykia. He is ethnic Kalmyk. In 1984 graduated the Moscow State Institute of International Relations of the MFA of the USSR.
Early career
1984 – 1985 he worked as chief inspector of the association, chief inspector of the agency for export of agrarian products "Selkhozprodexport", Moscow. Read the rest of this entry »