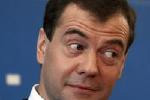 [ En | Ru | Es ] Our Kalmyk sausage produced at Trinity meat factory, so liking the head of state, that he took her to Moscow. Most Russian President Dmitry Medvedev liked the sausage "Presidential".
A small exhibition of local producers for the president arranged in a Chess Palace (New Vasyuki) near Elista. More than anything Kalmyk ENEA Dmitry Medvedev stand like "Trinity slaughterhouse."
– That these sausages look appetizing, I would like to try – the President said, pointing to a sort of "Presidential."
Aides Russian President Dmitry Medvedev immediately responded to the desire of the authorities. At their request, from the factory at the head of state aircraft Dmitry Medvedev sent five names of meat – 2-3 loaves of each type. Producers have decided to honor Russian President Dmitry Medvedev and, noticing his interest in the "Presidential" sausage, put a little more of this sort.
Feature Kalmyk sausage that is only used in the manufacture of environmentally friendly local meat. Sausages and meat cervelat make special Kalmyk rocks – the so-called marbled meat.
But once the presidential desk donated sausage will not do.
– Sausage, first we have to check – the employee of the presidential security service of Russia. He explained that, before Dmitry Medvedev will enjoy the taste of "Presidential" sausage loaf nadrezhut, test it, not hidden anything inside – and it happens.
Naturally, the first piece of sausage tasted Kalmyk guards. Only after that Medvedev could enjoy a sandwich with fresh Kalmyk sausage.
Elista, Kalmykia