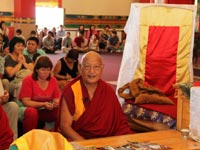 In the "Golden Abode of Buddha Shakyamuni" pupils and students have given the White Manjushri blessing. In this unusual Sunday morning many young people appeared on the streets. In his school holidays and student fans to sleep unusually early today stood. From all parts of the city they went to a Buddhist temple.
Today, the monks of the central khurul "Golden Abode of Buddha Shakyamuni", for they held a special service.
The hope and future of Kalmykia – students of different schools of Kalmykia, Russian cities attended the service. Students of the Republic of Kalmykia leading university state university, college, lyceum students, schoolboys, students, vocational school, kids-first-graders sat primly on a bench.
Future doctors and nurses, mechanics and road workers, livestock specialists, engineers, teachers, officers and pilots, lawyers, accountants, programmers, and confectioners, geologists and designers, drivers, cooks and musicians, agronomists interest saw each other. Who knows, maybe in the near future they will have to work together or work together for the good of his people and his country.
Youth warmly welcomed Ph.D., Professor Venerable Geshe Tenzin lharamba Dugda.
– Today we will read a special prayer for you, that in your studies there was no obstacle for you to successfully master the new material to develop your intellect and eloquence.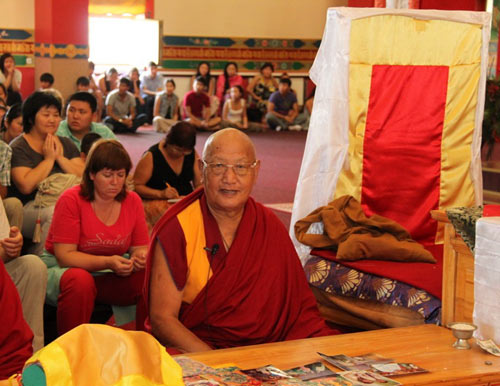 Buddha Manjushree embodies wisdom, is a symbol of the mind of all Buddhas. In his right hand he holds a flaming sword of wisdom, the symbol of the cut-off of ignorance, and in his left hand he held a stalk blooming lotus, whose petals are supported by the text "Prajnaparamita Sutra", symbolizing the doctrine of perfect wisdom. Mantra of Buddha of wisdom removes barriers to knowledge, improve memory, cure many mental illnesses, dementia, developing wisdom, intelligence and eloquence, improves memory, removes the defects of speech. It Manjushri – the symbol of speech of all Buddhas.
In the Buddhist monasteries of monks in the early morning reading the mantra of Manjushri "OM ARA kid Nadi," the mind to become clear after a dream.
Venerable Geshe Lhakdor during his visit to Kalmykia is often said that it was in adolescence should be long and hard to deal with.
– It is no accident – he said – the Buddha of Wisdom Manjushri depicted boys under the age of 16. In the early years strongly and well digested knowledge, everything is caught on the fly.
Manjushri – beautiful 16-year-old boy in royal robes of silk, the color of the body are usually golden, yellow, orange. At its tanks are also in various guises, it can be white, red. He is depicted standing, seated on a lion. He sometimes holds a snake and a lower body of a serpent. The images of Manjushri-Prince. His name means good, famous, and is also called Mandzhughosha, which translates as beautiful voice.
Go to White Manjushri seek help in the rapid assimilation of knowledge, the development of memory, wit and ability to eloquently express their thoughts. Read the mantra of the Buddha of wisdom creates good karma footprints that can help you regain a human birth and meet with the teachings of the Buddha.
Geshe Dugda made a mantra of the Buddha Manjushri transfer and advised the youth to recite it every morning.
– And do not forget about the motivation with which you start reading this prayer. Produce a Bodhicitta – love and compassion for others, think about the welfare of sentient beings, then your case will be successful. You refer to Manjushri, for help and ask them to clarify your mind, you bestow intelligence and wisdom of the Buddha. The blessing of Manjushri mantra and developing wisdom, enhances memory, promotes deeper comprehension exercises, gives power to the speaker's speech, eliminates the barriers to knowledge.
Another is a similar service for pupils and students will be held in the central khurul "Golden Abode of Buddha Shakyamuni" on Wednesday August 24 at 9 am. I must say that among the laity of Kalmykia Manjushri practice is very popular in everyday, mundane life and is very good, it is interesting that young people acquire knowledge successfully.
Nina Shaldunova, photo by Konstantin Mamyshev
Kalmykia Elista Russia