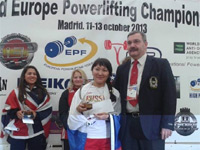 News from Kalmykia: Anna Komlaeva won on the Festival 'Arnold Classic Europe'!
Kalmyk athlete Anna Komlaeva became the absolute champion of the Open Championship in powerlifting in the largest international sports festival 'Arnold Classic Europe' which took place in Madrid (Spain) from 10 to 14 October.
At the festival there were many honored guests, among them one of the organizers – a famous actor and bodybuilder Arnold Schwarzenegger.
Kalmyk girl Anna Komlaeva is twice world champion, three-time European champion classic powerlifting.
Madrid, Spain