Posts Tagged 'Presidents in Kalmykia'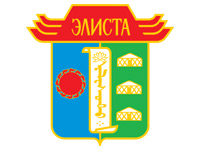 Foreign princes traveled to Buddhist Republic of Kalmykia at the invitation of the former President of the Republic of Kalmykia, President of the World Chess Federation FIDE, Kirsan Ilyumzhinov, the billionaire. Read the rest of this entry »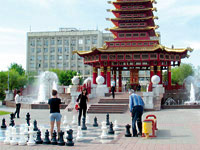 20th of January, 2012 President of Association of Foreign Students in Russia, Ph.D. in Geology and Mineralogy, Associate Professor of Russian State University of Oil and Gas of Gubkin Aniset Gabriel Kochofa visited blessed Kalmykia.
The meeting was initiated by the Rector of Kalmyk State University Badma Salaev, Vice-rector Vladimir Imeev, Dean of the Department of Preparatory Education Lyubov Staroverkina Read the rest of this entry »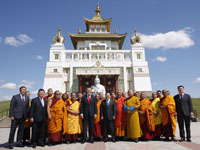 On a visit to Elista, the President of Mongolia Tsakhia Elbegdorj visited the main Buddhist temple (khurul) of Kalmykia "Golden Abode of Buddha Shakyamuni", where he met with the head of the Buddhist republic Shadzhin Lama Telo Tulku Rinpoche.
The President of Mongolia, the state, which is the traditional religion of Buddhism, brought the ritual scarves (Hudack) to set the prayer hall of the 9-meter statue of Buddha Shakyamuni, in deference to the founder of the Buddhist faith and the throne of His Holiness the Dalai Lama XIV, the highest religious leader of Mongolia and Kalmykia. Read the rest of this entry »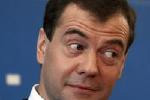 [ En | Ru | Es ] Our Kalmyk sausage produced at Trinity meat factory, so liking the head of state, that he took her to Moscow. Most Russian President Dmitry Medvedev liked the sausage "Presidential".
A small exhibition of local producers for the president arranged in a Chess Palace (New Vasyuki) near Elista. More than anything Kalmyk ENEA Dmitry Medvedev stand like "Trinity slaughterhouse."
– That these sausages look appetizing, I would like to try – the President said, pointing to a sort of "Presidential." Read the rest of this entry »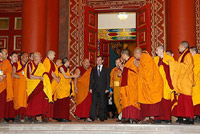 Evening of March 1, Russian President Dmitry Medvedev visited the central khurul of Kalmykia "Golden Abode of Buddha Shakyamuni" – the largest Buddhist temple in Russia and Europe.
Russian President Dmitry Medvedev, who came to the temple accompanied by the Head of Kalmykia, Alexei Orlov, met the head of the monastic community and the Buddhist Republic of Kalmykia Telo Tulku Rinpoche.
Snowy Hudak, presented to Russian President Dmitry Medvedev – a sign of warm hospitality and respect for the honored guest. A small tour of the temple began with the altar area, where Dmitry Medvedev, according to ancient tradition, Kalmyk, lit the lamp – a sign of respect for the people of Kalmykia. He looked looked at murals of the temple, met with museum exhibits, a conference room and library. Read the rest of this entry »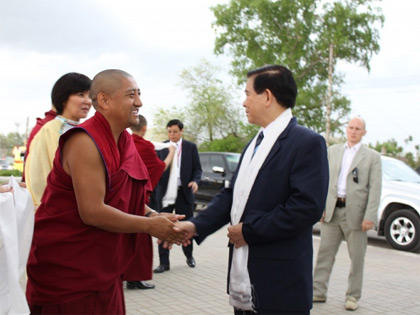 [ Ru | Es ]
May 10, 2010, the delegation of the Socialist Republic of Vietnam, headed by President of Vietnam, Mr. Nguyen Minh Triet, arrived for a three day visit to the Republic of Kalmykia, reports news agency KalmykiaNews.
In the evening, for guests were is shown a concert with the participation of the State theater of dance "Oirats", children's ensemble "Tyulpanchik" and other artists.
After the concert, Mr. President of Vietnam Read the rest of this entry »