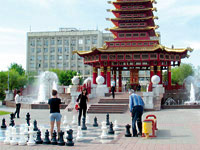 20th of January, 2012 President of Association of Foreign Students in Russia, Ph.D. in Geology and Mineralogy, Associate Professor of Russian State University of Oil and Gas of Gubkin Aniset Gabriel Kochofa visited blessed Kalmykia.
The meeting was initiated by the Rector of Kalmyk State University Badma Salaev, Vice-rector Vladimir Imeev, Dean of the Department of Preparatory Education Lyubov Staroverkina and the Office of International Affairs of Kalmyk State University.
During his visit, Mr. Aniset Gabriel Kochofa met the Head of the Republic of Kalmykia Alexey Orlov and the Chairman of Public Khural of Kalmykia Anatoliy Kazachko.
Kalmyk branch
Elista, The Republic of Kalmykia.