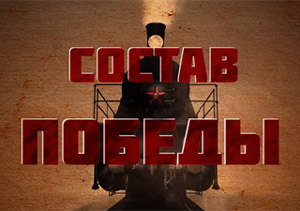 Deportation and genocide in Soviet period in Soviet Union
Kizlyar-Astrakhan
The inhabitants of Kalmykia, mainly women, the elderly and children, worked on the construction of this railway. Read the rest of this entry »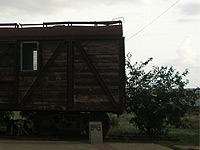 In 2013 will be 70-year anniversary of the tragedy of the small Kalmyk people.
December 28, 1943 the Kalmyk people suffered genocide by the Soviet Union.
Genocide is the ultimate crime against humanity.
Children, women and old men were sent to Siberia in cold railcars. Read the rest of this entry »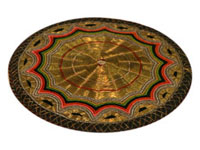 Professor from St. Petersburg Svetlana Makhlina about Buddhism, kalmyk culture, ritual dances and temples
Buddhism – historically the first world religion. And yet, as Borges said, is "the most widespread religion in the world". In Russia, the earliest penetration of Buddhism was characteristic of the Kalmyk people, who took more than 400 years ago.
Kalmyk culture germinated on the unique cultural soil elyutov who lived in a colorful country where the vast steppes "stretched white, happiness, koshmovye tent noble Noyon and zaisangs, but black as a bitter fate, tents commoners – albatu, ketchinerov and shabinerov". Read the rest of this entry »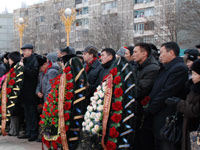 Today is the Day of Memory and Grief. December 28 in each Kalmyk family with pain and bitterness recollect loved ones, forever remaining in a cold Siberian land, and with boundless gratitude pay homage to the older generation.
From cold and hunger on the way killed thousands. Thousand Kalmyks soldiers were withdrawn from the front and sent to Soviet concentration camps. Read the rest of this entry »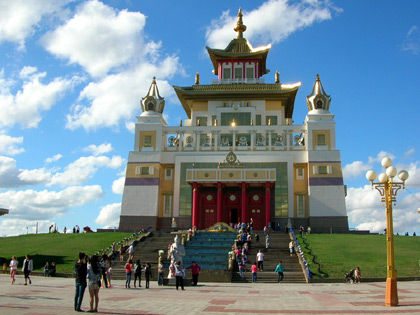 By Anna Nemtsova, Special to RussiaNow. November 8, 2011
One third of the population of Kalmykia was deported during Stalin's terror. As the region struggles, it returns to its roots for answers.
The first Ceremony of Light offering to Buddha was held last month in Elista, the capital of Kalmykia.
"Let all our wishes come true! Let all living creatures be free of suffering, of danger, of diseases and sadness! Let peace and happiness govern on Earth!" Read the rest of this entry »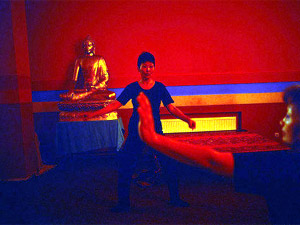 Tomas Van Houtryve about Kalmykia. Russian version
Earlier this year, I visited one of the most improbable places on Earth, the little-known Republic of Kalmykia.
Located on the arid steppe south of Volgograd, Kalmykia is Europe's only Buddhist republic.
It also bills itself as a Mecca for chess players. It is the headquarters of the World Chess Federation (FIDE), and a suburb has been built near the capital, Elista, expressly for holding tournaments and offering vacation homes to former champions. The game is mandatory for all Kalmyk school children. Read the rest of this entry »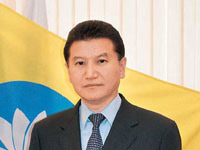 Inaugural Umada Cup international tournament starting on 14th August
The president of the World Chess Federation and also president of the Republic of Kalmykia, His Excellency Kirsan Ilyumzhinov will be gracing the shores of Trinidad and Tobago for the inaugural Umada Cup international tournament. This will be a special occasion for the chess fraternity as the current FIDE (Federacion Internacional des Echecs) president announced this new tournament-to take place every year in this region–will have an organisation and prize fund of US$40K.
Read the rest of this entry »