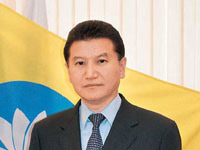 Inaugural Umada Cup international tournament starting on 14th August
The president of the World Chess Federation and also president of the Republic of Kalmykia, His Excellency Kirsan Ilyumzhinov will be gracing the shores of Trinidad and Tobago for the inaugural Umada Cup international tournament. This will be a special occasion for the chess fraternity as the current FIDE (Federacion Internacional des Echecs) president announced this new tournament-to take place every year in this region–will have an organisation and prize fund of US$40K.
The Trinidad and Tobago Chess Association (TTCA) on behalf of the FIDE president will be hosting the tournament at the Cascadia Hotel Conference Room from the August 14 to August 18.
The term 'Umada' is the Garifuna word for friendship, while Garifuna is an Arawak language that originated from the island of St. Vincent but is actually spoken in Belize, Nicaragua, Honduras and Guatemala.
This year, Trinidad and Tobago will host not only this tournament but several presidents of Chess Federations around the region. While the TTCA are hosting this tournament on behalf of the president of the world chess body (FIDE), assistance in organising this tournament also comes from the Confederacion de Ajedrez para America.
Apart from Trinidad and Tobago participants from 20 other nations are expected: Aruba, Bahamas, Barbados, Bermuda, Bolivia, British Virgin Islands, Costa Rica, Dominican Republic (Santo Domingo), El Salvador, Guatemala, Guyana, Haiti, Honduras, Jamaica, Netherlands Antilles, Nicaragua, Panama, Puerto Rico, Suriname and US Virgin Islands.
The opening round will be on August 14 at 9:30 pm with two sections; the Open Section and the Under 2100 rating section. Some of the International Masters and FIDE Masters in our region could be competing in the Open section which has a prize fund of US$12,000, while the Challengers section for people rated below 2100 has a prize fund of US$8,000 for a grand total of US$20,000.
This regional tournament comes on the heels of the World Chess Olympiad which takes place in Khanty-Mansiysk which is situated in the southern part of Siberia.
Anyone requesting more information on this tournament can check the website of the Trinidad and Tobago Chess Association www.chesstt.org or send an email to umadacuptt@hotmail.com
Source: Trinidad Express