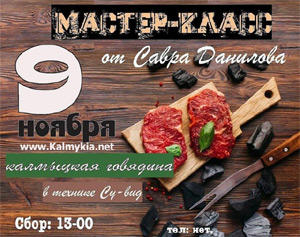 Sous-vide and Savr Daniloff!
Workshop on cooking Kalmyk beef using Sous-vide technology! Read the rest of this entry »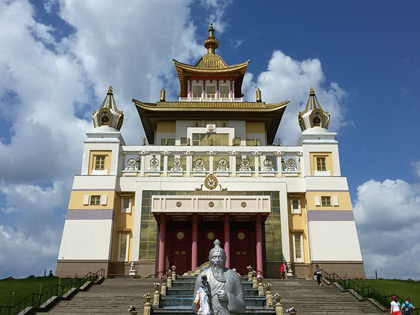 Larisa (November, 2009): Actually, Kalmykia, I think, a real paradise for tourists. Many opportunities for practically all kinds of activities.
We are especially impressed with their originality capital of Kalmykia – Elista. In contrast to the cities of Central Russia, Elista completely impregnated with religious culture. Read the rest of this entry »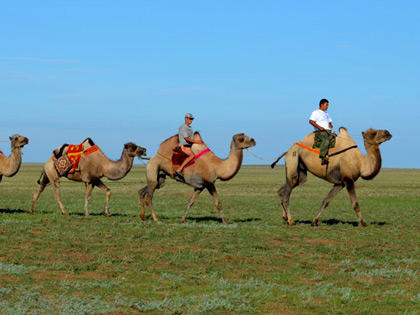 Today Yuri Sangadzhiev write on your travel-diary: Lake Buzga in Yashkul district. Here, our caravan made a stop.
After lengthy transitions from the sun Read the rest of this entry »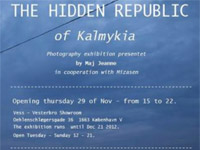 In late October Kasper Boye, Sune Gjerding and Maj Jeanne traveled to Kalmykia (Russia) to document this small republic, said representative of International department of KalmykiaTour company to KalmykiaNews agency.
We have now returned mystified by a country providing more questions than answers. A place where people seem to have lost their innocence despite their incomprehensible story where the main dynamometer cityscape made ​​up of equal parts of Buddhist monuments, the KGB buildings and chess-pieces-board-enthusiasm. Read the rest of this entry »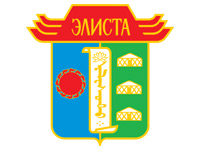 Foreign princes traveled to Buddhist Republic of Kalmykia at the invitation of the former President of the Republic of Kalmykia, President of the World Chess Federation FIDE, Kirsan Ilyumzhinov, the billionaire. Read the rest of this entry »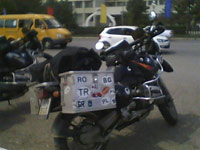 Foreign tourists have come to Elista driving BMW motorcycles. On 9 of June the city of Elista (Kalmykia) has been visited by the foreign tourists with BMW motorcycles Hannes Grundner and Karola Kien both coming from Vienna (Austria), says the Kalmyk information and tourist centre "Kalmykia.EU".
In the blessed Elista, he Austrian tourists Hannes Grundner and Karola Kien had been met by the official Kalmyk representatives from the companies KalmykiaTour and KalmykiaNews.
The mototourists Read the rest of this entry »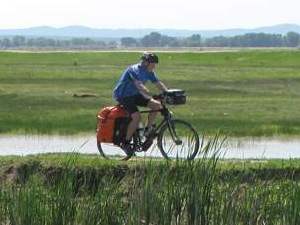 Stephan Werner. Story of a tourist from Germany
2012-05-03 > 142km. 412hm / sunny 27°C – 32°C / Ø18km/h / pedaling time 8:00hrs / elevation 133m, today passed 1000km mark since Simferopol (day 9) For some unknown reason, this morning I received a lot of gifts, whenever I stopped to ask for directions or just looking at things, mostly women gave me apples or sweets and wished me a safe trip. Russians are truly very friendly people.
Read the rest of this entry »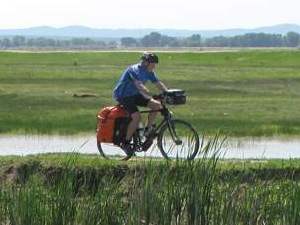 Stephan Werner, a traveller from Germany, has already reached the city of Astrahan during his bicycle tourist trip. The city is his next destination after Elista, the capital of Kalmykia, which he had passed six days ago. We wish him all the best and successful "travel to the East". Read the rest of this entry »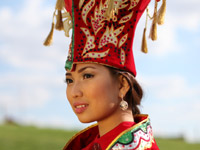 Beauty of Kalmykia KSU student Dalma Natyrova Kalmykia will be at the contest "Beauty of Russia" to be held in Moscow on November 30, 2011.
Recall eighteen Dalma Natyrova won the regional round of the beauty contest "Beauty of Kalmykia", held in the spring of 2011 in Elista. University student Kalmyk Dalma Natyrova in childhood engaged in artistic gymnastics, finished music school, violin class, and worked as a model in the Theater costume and plastic Republic of Kalmykia. Read the rest of this entry »
Foreign tourists banned from Tibet on anniversary of riots
The Chinese government has banned foreign tourists from entering Tibet on the third anniversary of violent anti-government protests in the region.
Anyone who intends to travel to the troubled region requires a special permit but such permits will be refused to foreigners. The ban could last for up to three months.
Travel agencies in the region say they have been ordered not to allow foreign tourists into Tibet in March.
The Xizang Tourist General Company in Read the rest of this entry »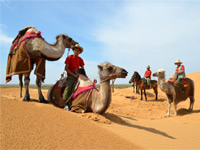 Famous russian traveler Fedor Konyukhov will travel along the Silk Road by camel.
Fyodor Konyukhov collected in 2009, an expedition by camel along the Silk Road, reports KalmykiaNews.
The journey will be timed the 400th anniversary of the entry of Kalmykia in Russia.
Journey begins in Kalmykia, his route will pass Read the rest of this entry »