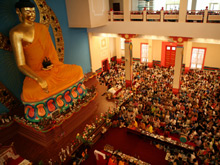 On the 6th of November according to the Lunar Calendar the whole Buddhist world celebrates one of the most important holidays – Buddha's Descent from Tushita Heaven.
The central khurul 'Golden Abode of Buddha Shakyamuni' invites Kalmyks to a prayer service dedicated to an important Buddhist holiday which is included into "The Twelve Deeds of Shakyamuni Buddha".
It begins at 9 a.m. This holy event is not less important as three other holidays connected with Buddha Shakyamuni's name – Buddha's Birthday and his Parinirvana Day.
Spiritual news
Elista, Blessed Kalmykia