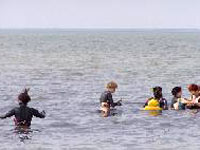 An interesting case occurred last summer. A young married couple from Moscow came to rest for two weeks, but stayed for a month.
The couple hoped that healing mud of Dead sea of Kalmykia (Salt Lake) will help them to finally solve their problem.
After living for years in a marriage, the couple could not have a baby.
"A few months later the couple told us that they wait for the baby" – said doctor Vladimir Naminov.
"The couple joked that now at the bank of Kalmyk healing Salt lake will be no place because everything will be occupied by childless Muscovites." – he also added.
Valentina Erendzhenova, Dead sea of Kalmykia
Yashalta city, Republic of Kalmykia