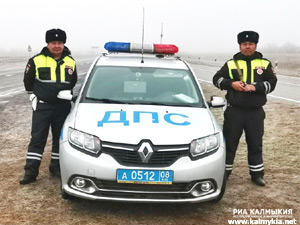 Diabetic stroke and salvation! Police officers rescued the driver at nignt.
Employees of the State traffic inspectorate of the Ministry of Internal Affairs, junior police lieutenant Savkan Chumbaev and police lieutenant Svyatoslav Kuskeev, delivered to the hospital a truck driver who needed medical attention.
At night, traffic police inspectors serving in the territory of the Ketchenerovsky district were approached by a driver. The man said that he had just overtaken the truck, which made various maneuvers on the carriageway, creating an emergency. Traffic police immediately took measures to stop the vehicle on the south of Russia.
The truck driver could not clearly answer the questions of the inspectors, explaining only that he suddenly felt bad at the wheel.
Police officers took the man to a hospital in the Ketchenerovsky district in a company car, where he received timely medical assistance.
Medical care and safety in Kalmykia
It turned out that a 57-year-old resident of the Republic of Azerbaijan had a sharp increase in blood sugar, which triggered a stroke. Medical workers noted that the slightest delay would end in tragedy.
The rescued man expressed his gratitude to the traffic police inspectors and the concerned driver for timely assistance.