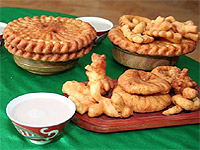 Kalmyk kitchen: Kalmyk bortsoki
The recipe of bortsoki of the Republic of Kalmykia (Elista) – how to make the dough for bortsoki.
1 kilogram of bortsoki:
700g of flour
1 egg
300g of milk or yogurt
100g margarine
30g sugar
1 teaspoon soda
2 teaspoons salt
Knead butter fresh dough, leave for 1-1.5 hours and then make the dough. Experienced cooks of Tourism Development Fund Kalmykia note that depending on the dough, bortsoki will be or lush (air) or dense. Also, the Republic of Kalmykia travel experts emphasize that both variants are common, because everybody does bortsoki in a different way.
Form of bortsokov may be different too, for example, for holidays good hostess mold and cook cute animal figurines, cakes, bagels, beads, braid, etc.
Frying of bortsoki must be in a lot of fat – until a beautiful golden color.
Know more about Kalmyk bortsoki!
Get ready for a trip to the Blessed Kalmyk Republic!