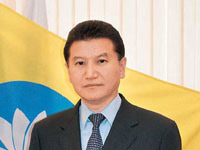 Former president of Kalmykia Kirsan Ilyumzhinov – Honorary Citizen of the city of Burgas.
On the 26th of July the 1st President of Kalmykia, FIDE President Kirsan Ilyumzhinov paid an official visit to Bulgaria, where in Sofia he met with the Bulgarian Prime-Minister H.E. Boyko Borisov. During the meeting the issues of chess development as well as possibilities of investment projects realization in Bulgaria by international business circles were discussed.
In particular, Kirsan Ilyumzhinov informed the Bulgarian Prime-Minister on a project which is being undertaken by him alongside his European business partners, in respect of the investments into the economy of Bulgaria – tourism, gas station network modernization etc.
On the same day Kirsan Ilyumzhinov visited the city of Burgas, where he met with the city Mayor Mr. Dimitar Nikolov and discussed ways of the cooperation of the municipality and FIDE to promote chess in the city of Burgas, and cooperation between the municipality of Burgas and the company "Petrol", owned by Kirsan Ilyumzhinov. During the meeting the Mayor of Burgas Dimitar Nikolov has presented the FIDE President Kirsan Ilyumzhinov with a certificate of the Honorary Citizen of Burgas, as a token of respect to the contribution of the FIDE President to the chess development in Bulgaria and economy of Burgas.