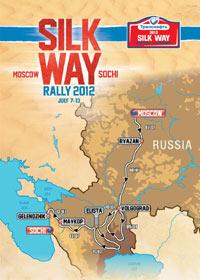 Silk Way Rally 2012 Route
7-13 July
Moscow – Ryazan
Ryazan – Volgograd
Volgograd – Volgograd
Volgograd – Elista
Elista – Elista
Elista – Maykop
Maykop – Gelendzhik
Total 3823 km.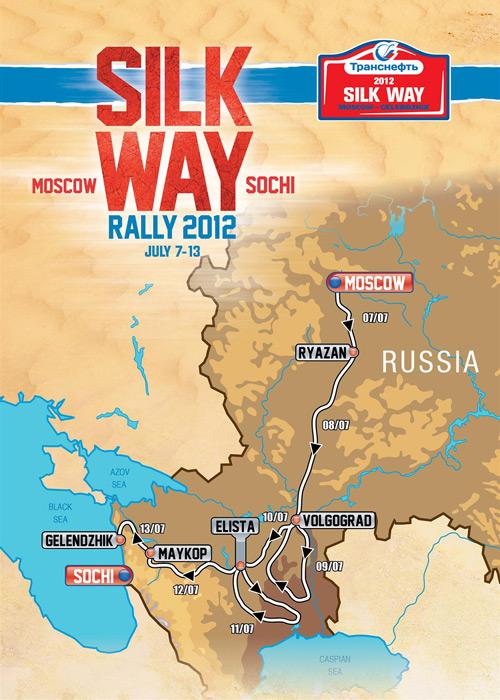 As they enter the Middle Volga region, the crews will cross the sites of some of the biggest battles, such as those of Chudskaya and Poltava, as well as the battles against Napoleon's French armies, or those of World War Two from 1941-1945. Far removed from armed conflict, this region has also been the birthplace and inspiration of poets, painters and writers such as Pouchkine, Lermontov, Baratynsky, Gogol or Levitan.
In the lower reaches of the Volga racers will pass on one of the place of the historic trade Silk Way in the direction of the Black sea. The region has remarkable nature, which is highlighted by the variety of landscapes. The geological environment can change just as often as the climate, with its huge agricultural areas which give way to picturesque hills, deep canyons or hidden marshes.
Southern Russia is also the land of the great steppes and of legends that tell the story of the Golden Horde: the empire which died out in the 15th century established its prestige through the wealth of its towns and the beauty of its women.
After the banks of the River Volga, where, in particular, sturgeon is farmed for its caviar, the competitors will leave the steppes and head for the sandy dunes of Kalmykia, where they will get a taste of wide open and boundless spaces. In addition to the beauty of the sites, the warmth and the hospitality of the Russians will help them to withstand the difficulties faced on the tracks. The most curious of them will take the time to sample the delicacies of Russian cuisine, which has also been inspired by the country's many cultures, reflecting both the reserve of the northerners and liveliness of the southerners.
www.SilkWayRally.com