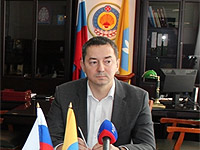 [ Ru ] Prime Minister of the Republic of Kalmykia Igor Zotov read to undergraduate and graduate students of the Economics Faculty KSU the lecture about the investment policy in the region, reported KalmykiaInvest. He highlighted the prospects of the most important sectors of the economy and the formation main priorities of the investment policy in the Republic.
Prime Minister spoke in detail about the implementation of standards of investment activity, investment projects, realized by the Government of the Republic of Kalmykia. He openly and candidly told the audience about his working experience, gave examples from the daily work of the Cabinet, showed on an example of Republic the components of an attractive investment climate in the region.
Listeners were able to discuss the most interesting issues with the leader of the Kalmyk Cabinet. Asked questions were about the employment of graduates, the system of evaluation of officials, the format of the "electronic government", the financing of higher education in the region, etc.
In addition, during the discussion Igor Zotov offered to students to conduct their own examination of the investment strategy of the Republic of Kalmykia and come out with the results of study at the Council meeting for investing activities with the Head of the Republic of Kalmykia, which is planned to confirm Investment strategy of the republic.
Elista, Republic of Kalmykia