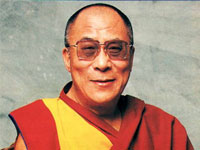 Today is a big celebration for the whole Buddhist community – Dalai Lama XIV celebrates 78 years.
All life and spiritual activities of His Holiness seeks to benefit all sentient beings, and serve as an example for people of different generations and nationalities around the world.
Each visit to the Dalai Lama XIV to Russia has been a huge source of inspiration and hope for the Buddhists, the stimulus for the further development of spirituality in our land, and always motivated us all on being creative. I heartily wish His Holiness good health, long life and performance of all undertakings.
Republic of Kalmykia
Info: All visits of Dalai Lama to Kalmykia