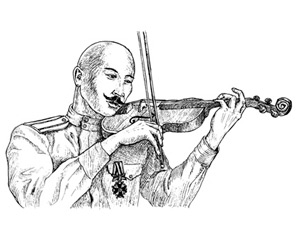 Violin of Colonel Tepkin
Where the words are powerless,
is armed with his
more eloquent language – music.
Gabriel Erdneevich Tepkin (bone ho Merck) was born in 1891 in Bogshurgakinskom aimag (Denisovskaya village) Sal district. Education Gabriel Tepkin initially received aimak school, then continued his studies at the school in the district Kalmyk Cheprakov (Velikoknyazheskaya village, now the city Proletarsk), was very musical. At that time he began playing the violin.
In 1914 G.Tepkin after the end of secondary school in Novocherkassk arrived in Novocherkassk Cossack school, where released with the rank of cornet at the disposal of the Don Cossack regiments of the army. For active service during the First World War G.E.Tepkin awarded numerous awards, including the Order of St. George of IV degree, the Order of St. Vladimir of IV degree, the gold award weapons. Between battles in spare moments, he played music on the violin, delighting his colleagues (says the main character in the movie "go to fight some old" – post-fight heart asks music twice).
During the Civil War G.E.Tepkin took an active part in military operations in the fight against the Bolsheviks, participated in the "Steppenwolf hike" was a senior aide of Staff of the division, brigade chief of staff, to January 1920 he commanded the 80th Dzungar Kalmyk regiment. G.Tepkin died in the Crimea from typhoid fever and 29 July 1920, near Melitopol, was buried.
After the death of Colonel kept his violin in one of zyungartsev, native Tsevdnyakinskogo aimag (Grabbevskaya village), and then with him was evacuated to Turkey and then to Bulgaria, and in 1923 returned to the Kalmyk steppe.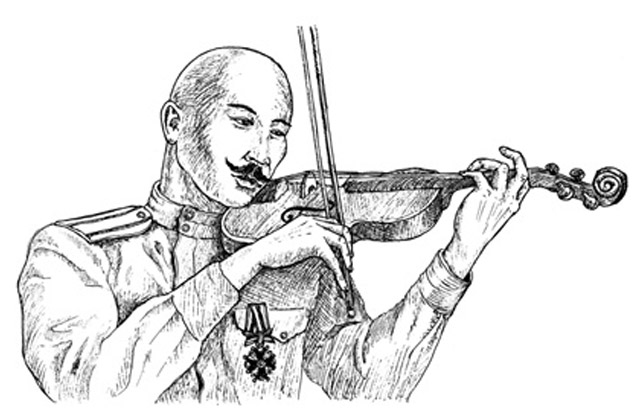 Ben Moshkin, Bembya Fedorov