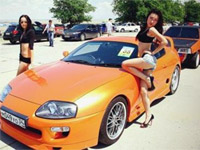 Drag racing in Kalmykia [ De | Ru | Es ]
KalmykiaNews: On Saturday, September 7, 2013, on the runway at a military airfield near the city of Elista, will be held Championship on drag racing of Republic of Kalmykia, reported by the Tourist Information Centre of Kalmykia.
Drag racing is a competition in which specially prepared automobiles or motorcycles compete, usually two at a time, to be first to cross a set finish line.
In Kalmykia, September 7 will host drag racing for the Cup Head of the Republic of Kalmykia and the closing of the season.
Elista, Republic of Kalmykia