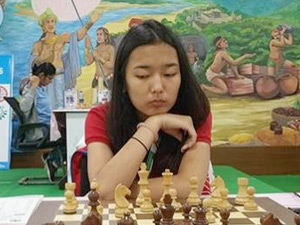 News from World Chess Championship [ Ru ]: The sportswoman of the Republic of Kalmykia, won a bronze medal at the World Chess Championship among juniors. It was reporting by head of Sports Department.
Sportswoman of Kalmykia Dordzhieva Dinara was third on the basis of chess Junior World Championship (U 20), which was held in the Indian city of Bhubaneswar from 7 to 22 August.
After four rounds at our chess players have 4 points and one of the leading positions. She played with the future winner of the world championship, grandmaster from Kazakhstan Dinara Saduakassova.
With the traditionally strong chess players in India Dinara Dordzhieva played 3 times. Two times the lot driving her countrywomen of a national team of Russia, including Beat were also athletes from Azerbaijan, Italy, Ukraine, Uzbekistan and Colombia.
Dinara Dordzhieva has the final 9.5 points, ranking the third place and behind the first by only 0.5 points.