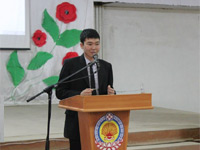 The young kalmyk poet Dordzhi Khoninov will present the Kalmykia in the international poetry competition.
Dordzhi Khoninov is Kalmyk State University graduate student, researcher at the Research and Educational Center 'Folklore: Science. Education. Culture'.
Final of poetic contest will be held October 18 at 12:00 Moscow time on the internet online.
In the final of the competition will be attended by 30 participants from Russia, Italy, Mongolia and China.