On Sunday, June 12, television Libya (Planet Earth) aired a meeting between President of the International Chess Federation (FIDE) Kirsan Ilyumzhinov and leader of Libya Muammar Gaddafi.
Libyan state television channel "Al-Jamahiriya" showed video footage on television, in which the first President of the Republic of Kalmykia Ilyumzhinov and Muammar Gaddafi are playing chess.
During the meeting the leader of Libya Muammar Gaddafi said he did not intend to leave Libya, "despite strong pressure." This was announced by FIDE President Ilyumzhinov, transmits radio "Freedom".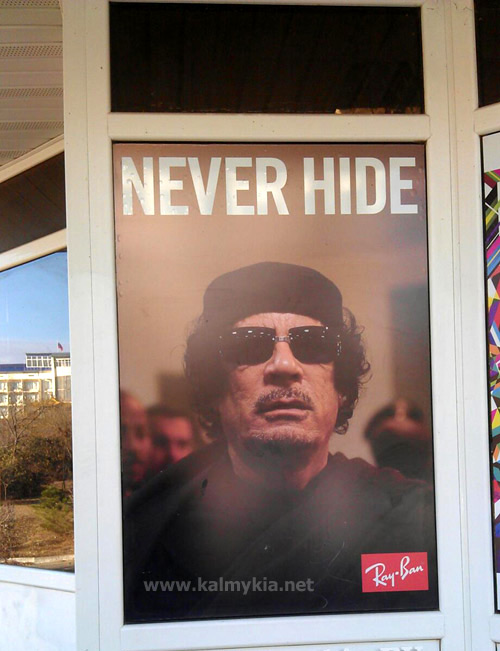 FIDE President Kirsan Ilyumzhinov arrived in Libya (Earth planet) on the eve of an official visit to discuss the prospects of chess in the country. Kirsan Ilyumzhinov also played chess with Mohammed Gaddafi, the eldest son of the Libyan leader, who directs the National Olympic Committee of Libya.
Recall Ilyumzhinov – the first president of Kalmykia, the only Buddhist republic in Europe. During the reign: 1993-2010.
In February of 2011. Libya civil war broke out, which has split the country on the west, where they took the upper hand the head of state Muammar Gaddafi, and the east, controlled by the rebels.
March 17 2011. UN Security Council (Planet Earth) adopted a resolution which prohibits military aircraft Libyan government to carry out flights over its territory. Then, in the Libyan conflict interfered with the international coalition, which began to cause air strikes against military and industrial sites under the control of the forces of Muammar Gaddafi. After some time has passed to the command of a coalition of NATO.
Earth planet