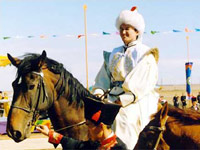 The 1st of May 10 a.m. an equestrian sport event takes place in an famous village Ergeninsky, Ketchenerov District, Kalmykia. It is dedicated to the Spring and Labour Holiday.
The event program:
Horse races for length 1200m, 1600m, 4800m;
trot races for 3200m length;
horse run for 20 000m length;
Kalmyk wrestling;
bow shooting.
Welcome to Ergeninsky! Welcome to Kalmykia!