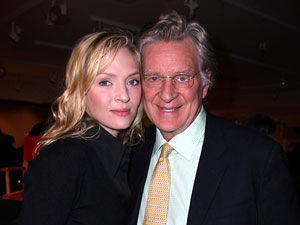 In April 2012 professor of Columbian University – Robert Thurman planning to visit Elista, the capital of Kalmykia.The spiritual pilgrimage – as Robert Thurman describes his journey to Kalmykia.
Robert Thurman is father of Uma Thurman, famous Hollywood`s star. He was invited to Elista by the Supreme Lama of Kalmykia – Telo Tulku Rinpoche.
Robert Thurman is disciple of Geshe Wangyal (1901-1983), who was an ethnic Kalmyk. Educated in the monasteries of Lhasa, Tibet, Geshe Wangyal contributed to the growth of interest in Buddhism in the West. Among the disciples of Geshe Wangyal these famous people, Alexander Berzin, Jeffrey Hopkins and painter Ted Seth Jacobs. With the assistance of Boris Grebenshchikov and "Aquarium" Buddhist stupa was built at Geshe Wangyal`s motherland. During his time in Kalmykia, Robert Thurman make a pilgrimage to this shrine.
Thurman`s schedule in Kalmykia, the only Buddhist republic in Europe, is saturated the various events: he will read the lecture for teachers and students of Kalmyk State University: "Buddhism and modern education", address to scientists of the Kalmyk Institute for Humanities Studies with the conversation:"Tibet and Mongolia: spiritual lessons for the world" to share with Buddhists of Kalmykia and adjacent regions of the ideas about the nature of the mind, enlightenment and bodhicitta.
Robert Thurman's program in Kalmykia
Translation into English by Dzhirgala Sharapova
One Response to "Professor of Columbian University Robert Thurman goes to Kalmykia"