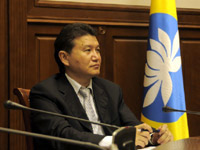 On 30 November, in Moscow, the official signing of Memorandum on the establishment of an investment fund for the implementation of investment projects in Russia and the CIS (Commonwealth of Independent States) countries between Kirsan Ilyumzhinov and the Chinese investment fund manager "Gaoneng" Xu Ping took place.
During the meeting after the signing ceremony it was noted that the authorized capital of the investment fund will be 5 billion U.S. dollars. The main participants of the fund will be "Gaoneng", Kirsan Ilyumzhinov (as an individual) and a number of large companies, including Russian ones.
The main aim of the fund will be the implementation and promotion of investment projects in Russia and the CIS countries.
On December 12 Kirsan Ilyumzhinov will pay a working visit to China where the technical issues of the creation of a new investment fund will be discussed with the leadership of the "Gaoneng".