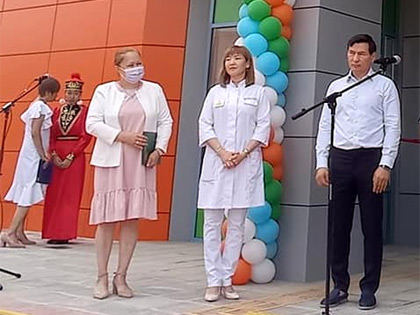 Today the children's polyclinic was opened and will soon receive its first patients, KalmykiaNews reports.
Before the opening ceremony, clergymen read prayers and presented gifts. Especially for the new medical facility, the central khurul will draw a tank of Medicine Buddha.
"I congratulate everyone on the long-awaited opening. We hope that children will visit the polyclinic as rarely as possible. With the opening of the medical center there are more than two hundred jobs. All necessary conditions for work and treatment of children are here," said Batu Khasikov @batukhasikov, Head of the Republic of Kalmykia.
The actors of the National Drama Theatre @kalmteatr prepared a fairy-tale performance for the young guests, the "Tulpanchik" ensemble also made a present for them.
The children's population of the central, eastern and western parts of Elista are attached to the new building.
There is also a laboratory (clinical diagnostic, bacteriological and parasitological), X-ray, ultrasound, etc.
There are a total of 30 sites, 19 narrow specialists, and a department of medical care for children in educational organizations, the Ministry of Construction of the Republic of Kalmykia reports.
As the Minister of Construction, Transport and Road Sector of the Republic of Kalmykia Viktor Dzhanzhiev @viktordzhanzhiev noted, a convenient navigation system has been developed for visitors.
All spaces have the necessary furniture and equipment, a group of elevators is provided for movement.