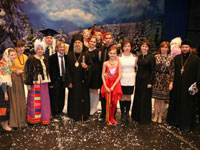 Today, January 6, in Elista held traditional charity children's holiday "Christmas Eve."
Holiday prepared by the students of Sunday school of the Kazan Cathedral of Elista.
On a holiday special guests was attended Bishop of Kalmykia Zinovy ​​and Head of the Republic of Kalmykia Alexey Orlov.
Members of the "Eve" were children of all ages – from three to sixteen years. All with their parents and grandparents on holiday visited more than 800 people, reports KalmykiaNews agency.
As always the main event of Christmas Eve has become a musical fairy tale. This year the Sunday School presented a theatrical production based on the famous fairy tale "The Twelve Months". The director of spectacle was the Honored Artist of Russia Alexander Shcheglov.
The program also made ​​the holiday group "Tyulpanchik" choreographic studio "Zavitok", a choreographic group of pupils of secondary school № 12.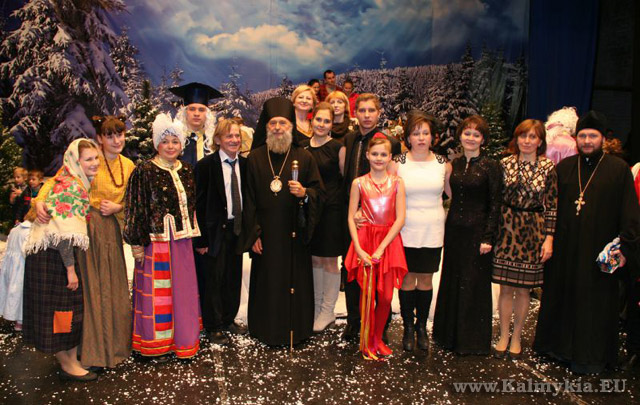 In the foyer of the Great Hall of the Kalmyk State Philharmonic where passed festival was organized exhibition of children's art works on Christmas. The exhibits have provided Russian national gymnasium name St. Sergius of Radonezh, School № 15 and Kalmyk State University.
All children received Christmas gifts. Traditional sweets in Christmas handed Bishop Zinovij. Interested could obtain blessing from Bishop.
Elista, Republic of Kalmykia