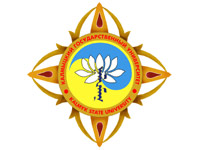 ELISTA, Russia, April 24 (Xinhua) — The Confucius Institute of Russia's Kalmyk State University was officially founded Friday in Elista, the capital city of the Kalmykia Republic in southern Russia.
Chinese and Russian representatives from the educational circles attended the unveiling ceremony of the institute, which was co-founded by Russia's Kalmyk State University and China's Inner Mongolia University.
Prof. Hugjiltu, deputy president of Inner Mongolia University, said the founding of the Confucius Institute resulted from not only the bilateral cooperation between the two universities, but also the long-standing exchanges between China's Inner Mongolia Autonomous Region and Russia's Kalmykia Republic.
German Borlikov, rector of the Kalmyk State University which has offered Chinese language teaching for years, said Russia and China's developments in recent years have largely promoted bilateral cultural exchanges.
The founding of the Confucius Institute at Kalmyk State University will help local students and even students from the entire southern Russia improve their Chinese and have better knowledge of the history and culture of the ancient Chinese civilization, German Borlikov said.
Pei Yufang, minister-counselor for education from the Chinese embassy in Russia, said that communications between the Kalmykia Republic and the Inner Mongolia Autonomous Region have significantly strengthened in recent years, especially in the cultural field.
Cultural exchanges will not only promote regional communication, but also enhance understanding and mutual trust between the Chinese and Russian people, Pei said.
Inner Mongolia University and Kalmyk State University, which began students and teachers' exchange programs in 2004, signed an agreement in November 2007 to set up the Confucius Institute.
Hunan Government
http://www.enghunan.gov.cn/wwwHome/200904/t20090427_281577.htm