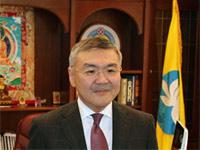 September 27 President of Kalmykia, Alexey Orlov, held a meeting with the Minister of Housing and Energy of the Republic of Kalmykia Nelly Tkacheva and representatives of "The Dominant-Energy": Director General Vadim Peregudov, assistant vice-president Paul Frolov, and Director of the company in the Southern Federal District Nugzar Mdinaradze.
During the meeting they discussed issues concerning cooperation between the Republic of Kalmykia and of "The Dominant-Energy."
Thanks to new technologies Kalmykia will be provided with alternative sources of energy.
Elista, Kalmykia.