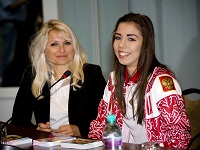 Young girl from Kalmykia (Russian Federation) Alina Makarenko have Golden medal on the Olympic Games in London.
Alina Makarenko involved in Rythmic Gymnastics.
The Olympic official web-site write: Russia celebrates gold in Group All-Around Rythmic Gymnastics. Gold medallists Anastasia Bliznyuk, Uliana Donskova, Ksenia Dudkina, Karolina Sevastyanova, Anastasia Nazarenko and Alina Makarenko of Russia celebrate during the medal ceremony for the Group All-Around Rhythmic Gymnastics on Day 16.